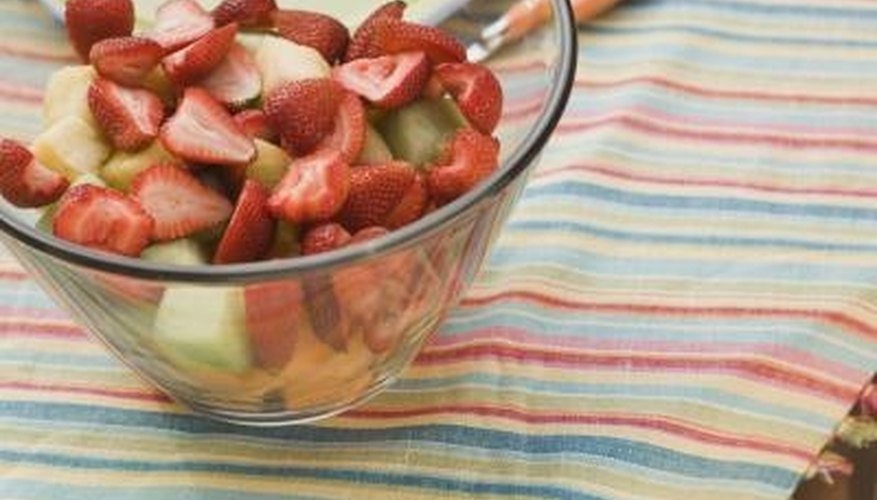 Bring the Feel of the Outdoors Indoors
Pick an evening to bring the outdoors indoors for a romantic picnic. Move your furniture so that there is a large open space and lay out a blanket to represent your picnic area. Circle the blanket with potted flowers, tall house plants or indoor trees. If you are using potted outdoor plants, set them on plastic to prevent soiling your carpet with dirt or mud. String white Christmas lights through the plants as much as possible to add illumination. Turn off the television, cell phones and anything that may be distracting so that you are able to focus on one another. Turn off all of the lights in the house except for the Christmas lights and enjoy a romantic indoor picnic that feels as if you're outdoors.
A Sensory Indulgence Picnic
Create a place for your picnic that is either in your bedroom or in front of a fireplace. Lay out a blanket on your floor and light aromatic candles around the room. Fill a picnic basket with flavorful finger foods. Add a bowl of fresh fruit and an assortment of chocolates. Open a bottle of wine or champagne, play soft music and use a silk scarf to completely blindfold your partner. Use your fingers to feed your him a little of each item and have him guess what it is. Do everything for your partner, from giving him a sip of wine to wiping his lips with a napkin. Afterwards, let him blindfold you and feed you in the same way.
Middle of the Day Picnic
If you have children who are in school during the day, schedule a time for you and your partner to take the afternoon off for a romantic picnic at home. If you prefer, plan to have lunch together without telling her that you are planning a romantic picnic at home. Tell her to request extra time off for lunch if possible. Instead of going to a restaurant, pick her up from her job and drive her home. Have a blanket spread out with a basket containing sandwiches or an assortment of meats and cheese. Circle the picnic area with flower petals and turn off the cell phone for uninterrupted together time.
An Intimate Bedroom Picnic
Plan an intimate picnic for two right in your bedroom. Set numerous candles on flat surfaces around the room. Sprinkle scented rose petals on the floor and across the bed. Lay a blanket on the floor with two wine glasses, a bottle of wine and a picnic basket. Fill the basket with food items like chocolates, strawberries and whipped cream, but also include nonfood items that are meant specifically for intimacy, such as massage oils. Play music that is suitable for a romantic evening and wear something intimate for the occasion.
View Singles Near You