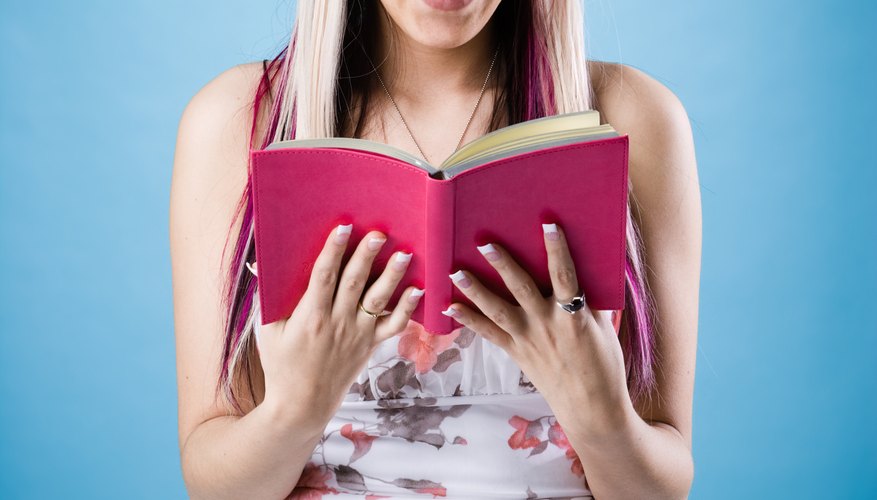 Contemporary Series Romance and Contemporary-Single Title Romance Styles
Contemporary romance books are set in modern times. The books reflect the morals and values of the time period they are written in. Contemporary series romances carry the same characters through two or more books, and the single title book is self-explanatory. Barnes and Nobles reports numerous sub-categories of contemporary romances, including baby love, medical romance, vacation love, amnesia and workplace love.
Young Adult Romance
Young adult romance books are geared for young adult romance novel lovers. Like all romantic literature styles, these books revolve around the central love story of two characters. Popular examples are "The Princess Diaries" by Meg Cabot, "Forever" by Judy Blume and "The Sisterhood of the Travelling Pants" by Ann Brashares.
Historical Romance and Regency Romance Styles
Historical romances must take place before the 1940s; they reflect the people and values of the time period they are set in. An example is "Midnight's Wild Passion" by Anna Campbell. Regency romances are historical romances that are set in England between 1810 and 1820; most of the books by Georgette Heyer are categorized within this sub-genre.
Paranormal Romance and Romantic Suspense Styles
Paranormal romance books include some aspect of things that can't be explained scientifically. The books can involve vampires, telekinesis, telepathy, ghosts, shape shifters or any other otherworldly aspects. Think of the "Twilight" saga. A romantic suspense book revolves around a love story with the added element of a mystery that needs to be solved or some other form of intrigue. Sometimes one of the main characters is involved in a crime. An example is "Naked in Death" by J.D. Robb.
Inspirational Romance Style
Inspirational romance novels involve spirituality; romantic stories are combined with Christian themes. These books involve almost no profanity or violence. When sex is included, it occurs after marriage; the act is not described in detail. Fidelity and forgiveness are common themes. Brenda Coulter's books are an example of this genre.
Novels with Strong Romantic Elements
Novels with strong romantic elements center around the love story, but they expand well beyond the typical romance boundaries. Mainstream romance novels are included in this style. Popular examples are "Tribute" by Nora Roberts and "The Fashion Police" by Sibel Hodge.
View Singles Near You