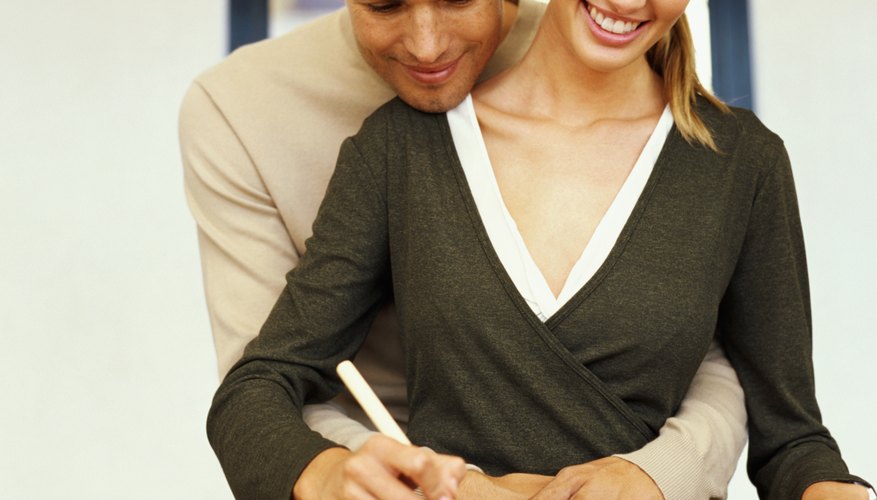 Good Eats for Cheap
Skip going out to an upscale restaurant. See what ingredients you and your date already have on hand to make a romantic meal at home. Making a meal together can create a great emotional connection between two people, according to psychologist John R. "Jack" Schafer in his "Psychology Today" article "Your First Home-Cooked Meal Together -- A Psychological Perspective." Perhaps your date finds she has boxed spaghetti and tomato sauce in her cabinets while you have frozen meatballs in your freezer. Combine the ingredients to make a spaghetti dinner. Then, set a romantic atmosphere in your dining room to eat it. Set up a candlelit table for two, and play soft music in the background.
Low-Cost Out and About
See what cultural events are happening in your hometown to plan an ideal budget-friendly date. Get entertained for free or a small fee. Maybe you and your sweetie can cuddle under the stars at a nearby park for an outdoor movie screening or concert featuring a local band. Bring along your own homemade treats to munch on. Alternatively, go to a local museum. Several city museums open their doors for free on certain days, which can serve as a date opportunity, explains certified dating expert Damona Hoffman in the "Your Tango" article "10 Date Night Ideas That Won't Break the Bank." Stroll hand in hand and share kisses while you view the displays.
Free Game Lover's Night
The expenses for a date night at a game entertainment center can get pretty hefty as you continuously replenish your date's game tokens. Instead, bring out your favorite board games for some friendly competition at home. "Uno" and "Twister" are ideal date-night games for two people, according to the "Cosmopolitan" article "10 Amazing Almost-Free Dates" by Victoria Lowe. Perhaps you both can get in touch with your inner child by playing "Candy Land" or "Operation." Create your own romantic rules to include while playing games, such as sharing a kiss each time a player lands on red. The loser at the end of the night must give a shoulder massage to the winner.
Budget-Friendly Backyard Camping
The beauty of the night sky can serve as an ideal romantic setting and also offers a wealth of ideas for an inexpensive yet fun date. Perhaps you can put up a tent and cuddle up to watch a romantic comedy on a tablet computer. Maybe you can lie on a blanket and point out the constellations. Whisper what you find in each other's ears. Look for a romantic spot to gaze at the stars and each other, Hoffman says. Or, roast s'mores by a campfire and softly read each other love poems or let romantic music play in the background.
View Singles Near You