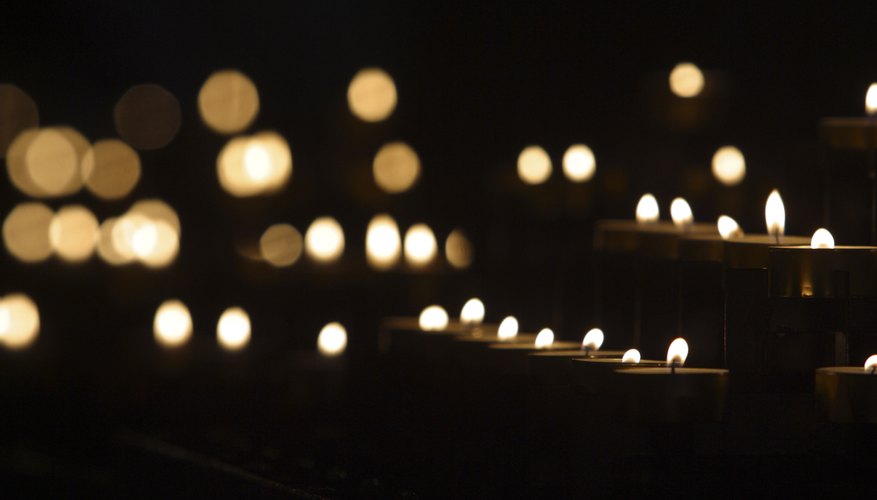 Step 1
Rent a movie screen and projector or purchase an inexpensive projector and hang a white sheet on which the movie can be watched. Set the screen and projector up. Another option is to move a large television outdoors and plug it with an extension cord.
Step 2
Hang paper lanterns and strings of lights around the movie area. Set large bowls upside down on the ground and place candles on top of them. Put a double lounge chair or cushion in front of the movie screen. Arrange decorative pillows on the seating. Slightly away from the movie screen, place a small table with an ottoman on each side.
Step 3
Select a variety of romantic movies from which you and your date can choose. A few ideas are "Casablanca," "Dirty Dancing," "Love and Other Drugs," "City of Angels" or even "Beastly."
Step 4
Decide if you are going to eat dinner before the movie or serve snacks. For dinner, make polenta and lamb or a warm lobster salad. Another option is to put simple salty and sweet treats on the table. Dip strawberries in chocolate, cut double chocolate brownies topped with a salty caramel sauce into heart shapes and fill meringues with passion fruit or lemon curd. Serve wine or sweet tea with the meal.
Things You Will Need

Projector
Screen
Sheet, white
Television
Paper lanterns
Strings of light
Bowls, large
Candles
Matches
Double lounge chair
Double lounge cushion
Decorative pillows
Short table
2 ottomans
Plates
Champagne glasses
Silverware
Dinner
Snacks
View Singles Near You