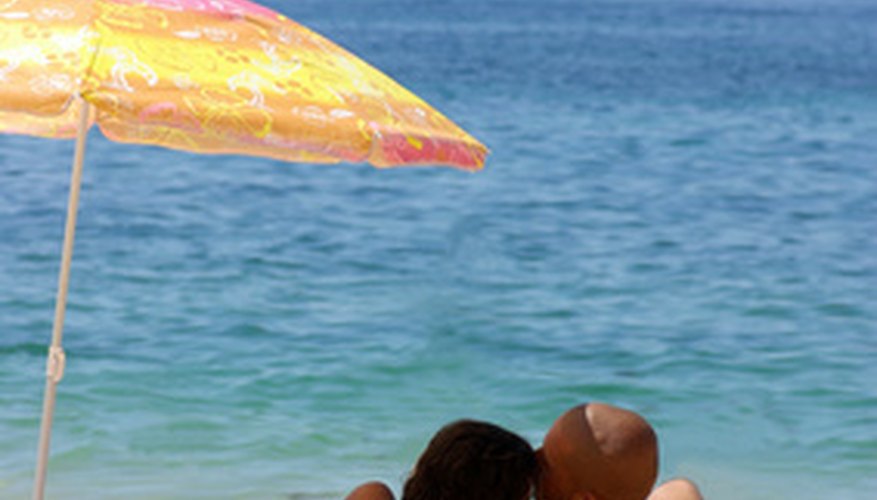 Beach Writing
Plan ahead and do this when you vacation near a beach, or get a friend who lives by the beach to help you out. Write a special message in the sand to your significant other. It can be something like, "Jerry loves Jane," "Happy Anniversary, Sweetie," "Jane and Jerry forever," "Jane and Jerry = 10 years together." "I can't believe I found you." Or it can reveal information like, "I'm pregnant," "Will you marry me?" "We're moving to Florida." Or it can be your inside phrase or joke that is significant to the two of you. Draw a heart or cloud around the message and take a picture from a high point that also shows some of the ocean. Develop the photo, frame it, and present it on that special occasion. It will be a romantic keepsake you can keep forever to remember that occasion.
Memory Collage
Everyone keeps little things that mean something to them in a relationship. Take some of these mementos -- ticket stubs, cards, receipts and favorite photos of the two of you -- and put them together into a collage that describes your relationship. Glue the pieces to a piece of card stock and apply a thin layer of sealant to the surface if you want it to have a glossy touch. Find the right frame and present it to your significant other. You might also want to take these things and use a local website to create a photo book collage with photos and mementos.
Romantic Photo Session
Take your partner for a romantic photo session on an anniversary, birthday, Valentine's Day or other significant occasion. Find a skilled photographer and enjoy a special hour creating romantic photos that you'll remember for a lifetime. They can be as lighthearted or as sensual as you want them.
Romantic Photo Hunt
Make a list of romantic things to capture in photos; a rose, a heart, a couple kissing, a place you always walk, a statue you like in the park, moonlight, fountains, champagne and chocolate, an older couple holding hands, romantic words found in signs and pink objects. Spend a day with your partner and the camera, hunting down the items on the list. Take time to walk in the park, have a romantic lunch with the requisite champagne and chocolate and hopefully end at a special place that involves moonlight.
References
View Singles Near You