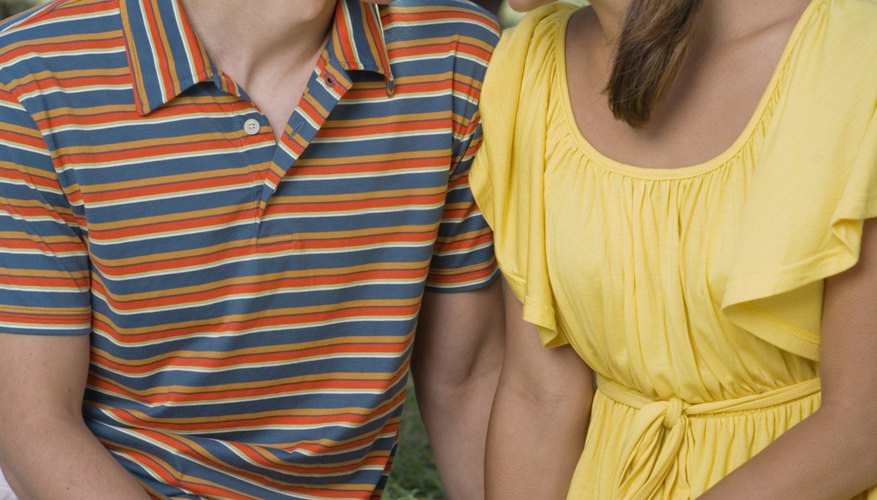 The Beach
The beach is an ideal setting for romance, where you can both enjoy the awe-inspiring views of the ocean. Bring a blanket and get comfortable. Don't forget to bring wine (if it's allowed) and your date's favorite foods. Take a walk along the beach and collect seashells. Bask in each other's company and the breathtaking waves before you. If you go in the evening, the beach may be deserted, and you can take in the moon and stars in solitude.
Campground
There's something exciting about being in nature, just the two of you. If your partner is adventurous, take her camping. Pack up the necessary supplies and camping gear. Don't forget to bring her favorite wine or champagne and make her a deliciously grilled hamburger or steak -- or fish or chicken, depending on her preferences. You can take a walk under the stars and hold hands to add to the magic, and then cuddle up in front of a cozy campfire.
Your Dining Room
Sometimes you need look no further than your own home for romance. Make a romantic dinner for your date. Of course, you can go to a restaurant, but the point is to surprise your date with the effort you've put into the preparations. Cook her favorite dinner or order takeout from her favorite little place. Light candles to add to the romantic ambiance and play soft music while you savor your dinner together. And be sure to whip up her favorite dessert (or buy it at a bakery) for the two of you to share.
Drive-In Theater
If you have a drive-in movie theater nearby, take advantage of this unique opportunity for romance. You can go to a regular movie theater anytime. Pack up your date's favorite foods and snacks. Don't forget to bring blankets and pillows for comfort. If you sit in the car, push the seats back as far as possible and hold hands. Alternatively, sit outside and enjoy cuddling together under the stars while you take in the latest comedy, drama or action film.
View Singles Near You