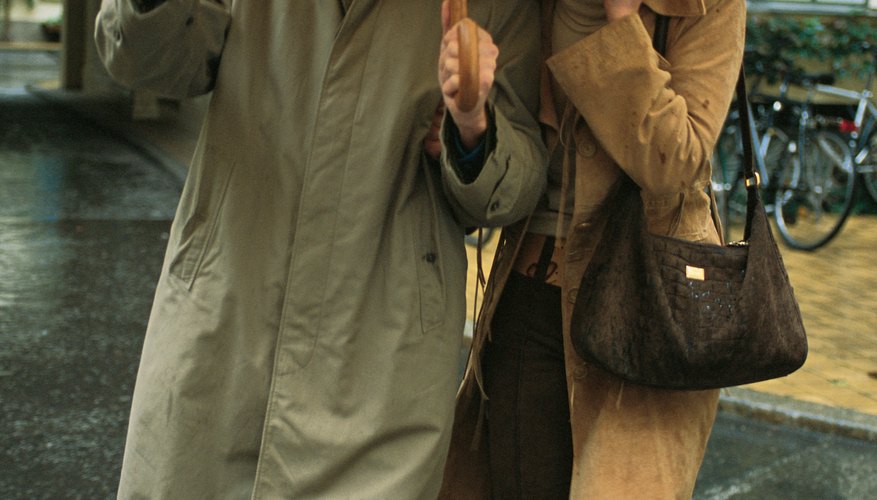 World-Class Museums
When it rains in New York and you need romantic environs, head to the Metropolitan Museum of Art. More commonly called "the Met," this renowned art museum is a big enough place that a couple could easily fill an entire rainy afternoon. A scene in the classic romantic comedy "When Harry Met Sally" was filmed here, in Gallery 131 of the Sackler Wing, with its enormous glass wall facing Central Park and housing the Temple of Dendur. Other world-class museums where you could spend the day browsing famous collections and large galleries are the Museum of Modern Art, the American Museum of Natural History and the Guggenheim.
At a Broadway Show
Whether you have advance tickets or are scrambling to find rainy day alternatives on the day of a show, the Great White Way always has plenty of theater options. Most of the theaters are in the Theater District around Times Square. You could have a cab drop you off in front of the theater and not get too wet as you dash across the sidewalk to the box office. If you need last-minute tickets, the TKTS booth in the center of Times Square sells day-of-show tickets at a greatly discounted price.
Legendary Pubs and Restaurants
In the East Village, McSorley's Old Ale House has been pouring ale since the mid-19th century, so chances are it will be open when you decide to run in out of the rain. You may feel like you've stepped into a time machine rather than a pub when you walk through McSorley's old double doors and stroll across its creaky wooden floor boards covered in sawdust. Similarly romantic in the historic fashion is Frauces Tavern in Lower Manhattan. George Washington bid farewell to his officers after the Revolutionary War in this establishment, and you can still wine and dine there today. The River Cafe is perfectly situated for a rainy day, underneath the Brooklyn Bridge on the Brooklyn side, with incredible views of the bridge and the skyscrapers of the Financial District across the East River, even in drizzling, drifting fog conditions.
Strolling the Great Indoors
Rockefeller Center in Midtown may be more well-known for its outdoor spaces, such as its famous ice rink and plaza, but the complex also contains a large underground concourse good for strolling and exploring in inclement weather. You could also take a tour of the NBC studios and head to the indoor observation platforms at the Top of the Rock. Even though it may be raining, you can still see stunning views of the Midtown skyscrapers surrounding the building known as "30 Rock." Grand Central Station isn't just a train station, and it's not just for commuters. This large architectural treasure has plenty of room to roam indoors, where you can gawk and grab a drink or a meal in one of NYC's more romantic and iconic structures.
View Singles Near You