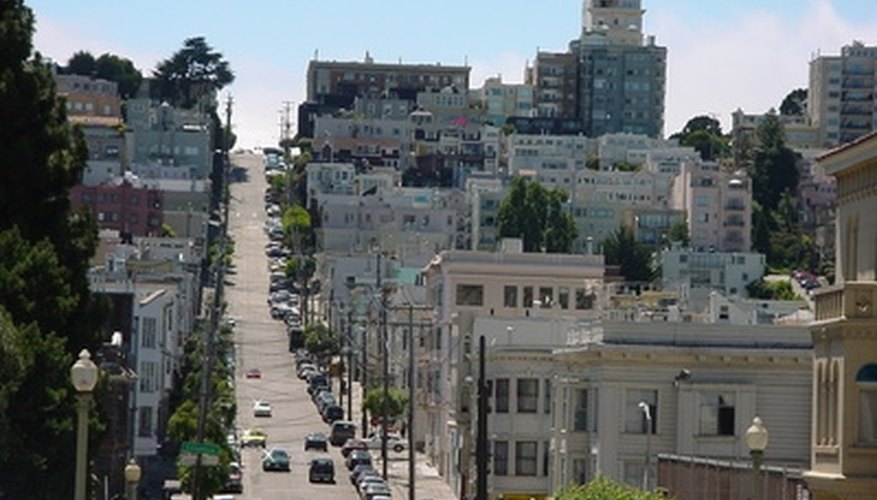 Luxury
The Huntington Hotel is one of the more expensive hotels in the San Francisco area. Celebrities have stayed at the hotel because of its elegant furnishings and artwork. You can also book a private spa day at the Nob Hill Spa inside the hotel or share a romantic dinner at the Big 4 Restaurant.
Clift is another option if you're looking for a luxury getaway in San Francisco. The Redwood Room, with its 2,000-year-old redwood bar, is the perfect place to have a few drinks. You'll also appreciate the rooms with silk and velvet linens and views that show the entire city.
The Huntington Hotel
1075 California St.
San Francisco, CA 94108
(415) 474-5400
Clift
495 Geary St.
San Francisco, CA 94102
(415) 775-4700
Moderate
The Serrano Hotel is a moderately priced San Francisco hotel. The hotel has a spa with treatments specifically for couples, and upscale-style suites such as the A.C.T. Suite, with a bedroom set up like a stage. The hotel also has its own Asian restaurant for a romantic dinner, or just curl up with a glass of wine in the reception area where free board games are available.
The historic Palace Hotel offers rooms at the same price, decorated with antique furnishings. You can enjoy a romantic dinner underneath a glass dome in Maxfield's Restaurant or take a dip in the swimming pool with skylights, which is open at night.
Serrano Hotel
405 Taylor St.
San Francisco, CA 94102
(866) 289-6561
The Palace Hotel
2 New Montgomery St.
San Francisco, CA 94105
(415) 512-1111
Cheapest
For a cheaper option, try the Hotel Monaco. The hotel is elegantly decorated in a traditional Chinese motif, including all of the guestrooms. All of the rooms come with L'Occitane products in the bathrooms and your own coffee pot. There's enough inside the rooms that you may never have to leave.
There's also The Hotel Majestic, which has just 60 rooms, all of which were updated recently. With antique four-poster beds and 24-hour room service, you'll feel comfortable and relaxed in no time.
Hotel Monaco
501 Geary St.
San Francisco, CA 94102
(415) 292-0100
The Hotel Majestic
1500 Sutter St.
San Francisco, CA 94109
(415) 441-1100
References
View Singles Near You