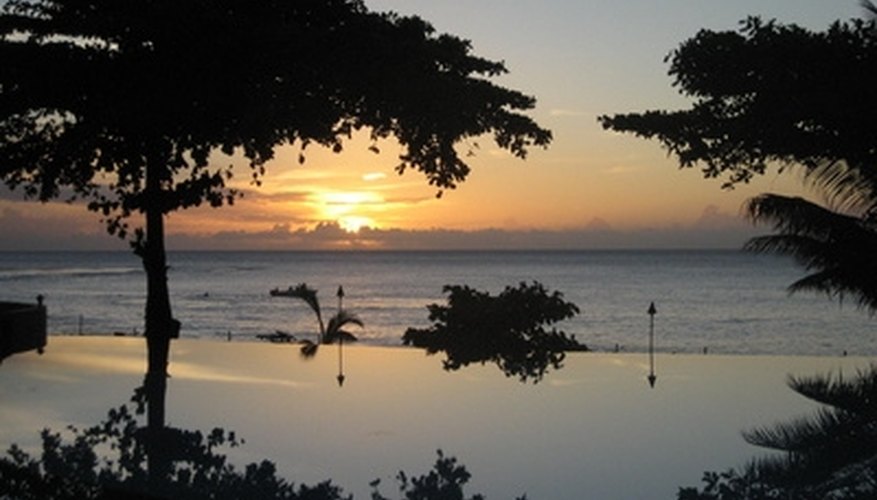 Bring the romance or find it when you get there; the world is full of destinations that sing out romance. One couple's heaven is found at the end of a long flight. Another pair can find it a few hours from home. A romantic destination can be a place or an experience. A trip on an Amazon river boat or New York City's finest hotel can be romantic, but some destinations are tried and true for honeymooners and others seeking romantic ambience.
Sedona, Arizona
Sunset in the high Arizona desert is red. The rocks and setting sun glow together in a spectacle that looks otherworldly. The juniper trees and fresh air make the daytime invigorating. Sedona's fine inns, restaurants and cultural events fill out a trip where the sunset alone would be enough. Sedona is a destination good for the active romantics; hiking, horseback riding and biking are all daytime options. The setting is a rugged canyon; a national forest surrounds the Sedona area.
Sedona Visitors Center
331 Forest Road
Sedona, AZ
800- 288-7336
sedonachamber.com
Tahiti, French Polynesia
Tahiti is a nearly iconic romantic destination. This South Pacific island is known for deep green valleys filled with waterfalls. Small villages and resorts tucked away in the hills are home away from home for visitors. Miles of serene beaches are part of the allure. One accommodation choice is a thatched bungalow on stilts over the water. Seemingly rustic, it's likely to be part of a luxury resort with many amenities.
Tahiti French Polynesia
Tahiti Tourism
tahiti-tourisme.com
Rio De Janeiro, Brazil
Rio de Janeiro sparkles in the sun all day and settles into romantic shadows at night. Ipanema Beach with its rocky outcroppings and white sand is a lover's film set. The tropical city is friendly and home to popular music that's among the most romantic on earth. Hotels overlooking Copacabana Beach are in the heart of things with a view of towering Sugar Loaf cliff. At Carnival, the whole city parties and parades day and night with music, costumes and dancing.
Rio Convention & Visitors Bureau
Rua Guilhermina Guinle, 272 / 6º andar
22270-060
Rio de Janeiro, Brasil
55 21 2266-9750
rcvb.com
E-mail: rcvb@rcvb.com.br
View Singles Near You