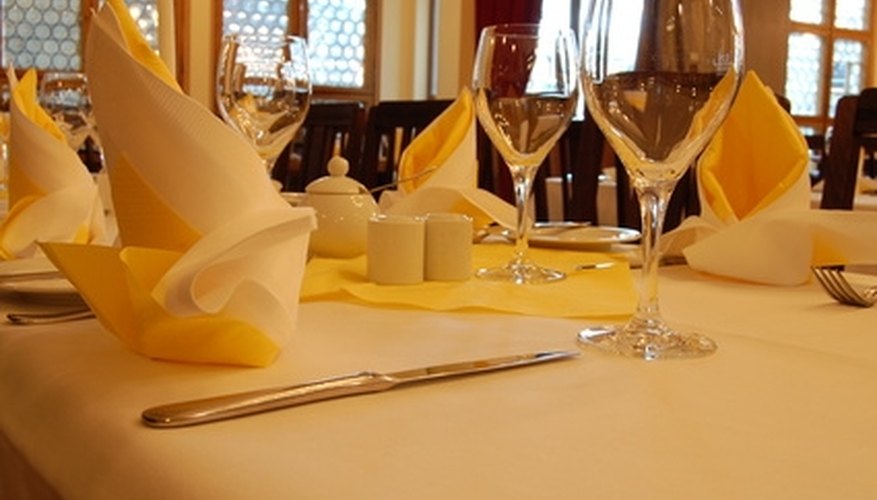 The Oceanaire
Located in the Hyatt Regency Hotel in Minneapolis, the Oceanaire is the perfect setting for a romantic night out. This award-winning restaurant has a friendly staff that is willing and able to help you select the best dishes for your night out. The restaurant's specialty is seafood, and the menu is predominantly made up of crab and fish dishes. However, steak dishes are also available. The Oceanaire main dishes range from $25 to $50, as of 2010. You can also book a private dining experience, and valet parking is available.
The Oceanaire
1300 Nicollet Avenue
Minneapolis, MN 55403
612-333-2277
theoceanaire.com
Collette Bar and Bistro
Another romantic restaurant in Minnesota is the Collette Bar and Bistro, which is part of the Sofitel hotel. The restaurant was newly renovated in 2010 and has a tasteful modern decor. The Collette Bar and Bistro features French cuisine with entrees priced from $15 to $30, as of 2010. The staff can help you match appropriate wine and dessert pairings with your meal. The restaurant also prides itself on 30 minute meals for customers who are in a rush.
Collette Bar and Bistro
5601 West 78th Street
Bloomington, MN 55439
952-835-1900
sofitelmplsdining.com
The Boulders
If you're looking for something outside of Minneapolis, The Boulders offers fine dining in Walker. Their menu offers dishes from all over the world with main courses ranging from $20 to $30, as of 2010. A full wine menu is also available. If you want to enjoy your meal outside, a patio is open during the summer months. This restaurant is open every day until 9:00 p.m.
The Boulders
8363 Lake Land Trail NW
Walker, MN 56484-2190
218-547-2001
thebouldersrestaurant.com
View Singles Near You