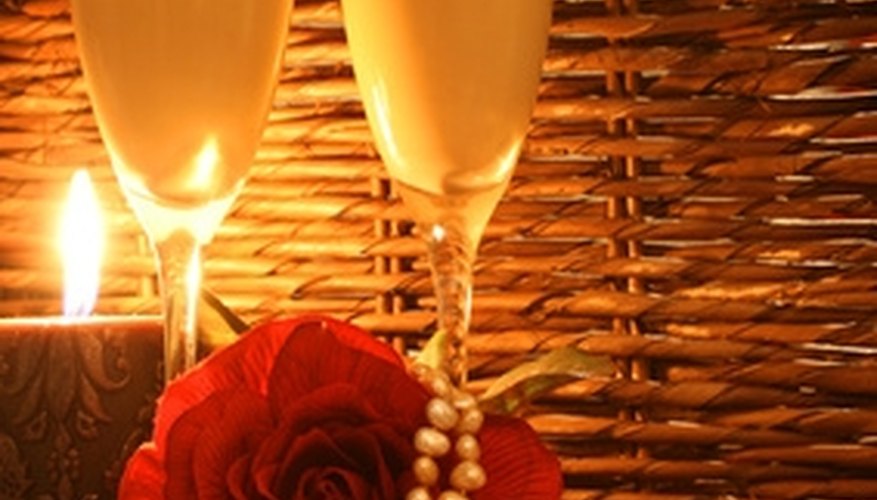 Whether enjoying a first date or an elegant night out with special someone, a number of popular restaurants with romantic backdrops can be found throughout the state of New York. The list includes fine dining rooms that fit any budget while offering the menu, service and ideal setting for a romantic meal.
Ginger Man
The Ginger Man is widely recognized for its vast selection of wines and special dishes. The restaurant is popular with the locals for its sophisticated setting, warm atmosphere, service and special menu, which is refined each week with locally produced ingredients from independently owned businesses. A stone-and-brick wine cellar holds more than 1,600 bottles to complement the fare, including 75 wines served by the glass. The restaurant is open Mondays through Saturdays.
Ginger Man
234 Western Ave.
Albany, NY 12203
518-427-5963
albanygingerman.com
Asti Cafe
Asti Cafe is located in the heart of the revitalized Little Italy area of Syracuse, New York, and offers an intimate setting with traditional Italian cuisine. The restaurant was refurnished and expanded in 2005 and a second expansion in 2009 added a dining room with wood-burning fireplace on the second floor. The dining area includes intimate lighting and decor while the menu provides a variety of authentic, homemade dishes. Open daily for lunch and dinner, the restaurant also offers sidewalk seating as weather permits. The atmosphere is considered "causal but neat." The restaurant recommends making reservations.
Asti Cafe
411 North Salina St.
Syracuse, NY 13203
315-478-1039
asticaffe.com
American Bounty
The American Bounty Restaurant in Hyde Park, New York offers a romantic setting with fine cuisine prepared by chefs from the Culinary Institute of America. The simple decor enhances the restaurant as it overlooks the Hudson River. The wide range of specialty dishes on the menu is presented by an award-winning staff which helped the restaurant earn the prestigious Restaurants & Institutions Ivy Award. It is open daily Tuesday through Saturday, for lunch and dinner. Reservations are available and the attire is business causal.
American Bounty
1946 Campus Dr.
Hyde Park, NY 12538
845-471-6608
ciachef.edu
Top of the Tower
The Top of the Tower restaurant on the 26th floor of the Beekman Tower Hotel provides panoramic views across the New York skyline. The restaurant offers creative American fare in a fine dining setting complemented nightly by a backdrop of stars and skyscrapers. A pianist also sets the mood with elegant music Tuesdays through Sundays. Open seven days a week for breakfast and dinner, it is located in midtown east near the United Nations just minutes from Central Park.
Top of the Tower
3 Mitchell Place
New York, NY 10017
212-980-4796
thetopofthetower.com
View Singles Near You