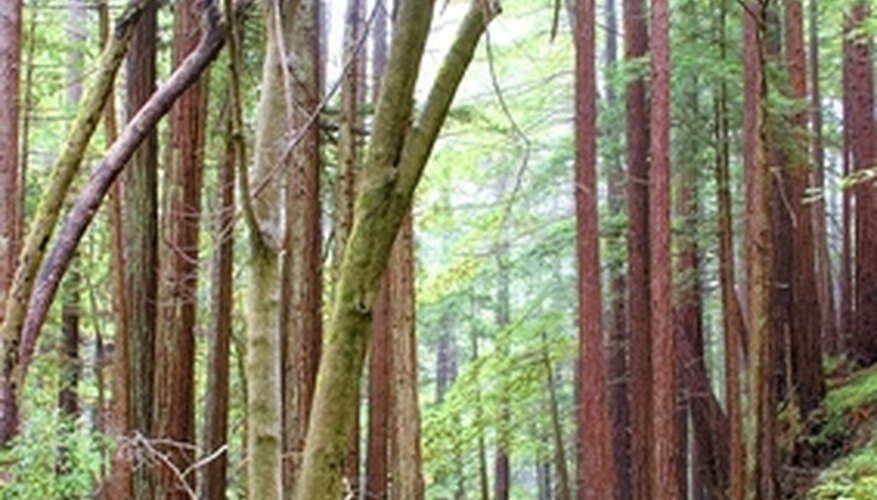 Northern California is home to rugged coastlines, the tallest trees in the world and a number of small, attractive towns. The harbors at Eureka and Fort Bragg allow you to indulge in whale watching. You can go fishing, if you want, or support the local industry by buying fresh salmon directly off the boat from local fishermen. Enjoy activities like hiking, bird watching, boating, kayaking and horseback riding in the region. In short, it makes the perfect destination for a romantic holiday--including romantic restaurants--away from the hustle and bustle of every day life.
Toni's Courtyard Cafe
When the weather is appropriate, dine outside in the quiet, romantic courtyard; alternately, enjoy an intimate meal over candlelight with subtle touches, such as cloth napkins. The vast majority of menu items are made from organic materials. The restaurant's menu changes each season, with lighter fare on offer in the summer months to heartier, more "comfort food" style items in the winter months, such as meat loaf. Toni's is also a suitable option for a romantic breakfast or brunch, with a variety of scrambles, pancakes, French toast and egg dishes on offer.
Toni's Courtyard Cafe
516 W. 18th Street
Merced, CA 95340
209-384-2580
toniscourtyardcafe.com
Sushi Rei
Sushi Rei offers a sleek interior and an open kitchen that allows you to watch the chefs preparing your dishes. A variety of sushi menus for two are available. For non-carnivorous diners, there is also vegetarian sushi, including zucchini, garlic and parmesan rolls, a garden roll (which comes with grilled asparagus, shiitake mushrooms, kaiware, mixed greens, roasted garlic and is topped with caramelized onions and ginger vinaigrette), shiitake maki, asparagus maki and shiso creamy (which comes with shiso, cream cheese, avocado, soy paper, shoga, lightly tempura and topped with eel sauce).
Sushi Rei
6201 Minaret Road
Suite 101
Mammoth Lakes, CA 93546-3142
760-924-8140
sushirei.com
Erna's Elderberry House
Set on the grounds of Chateau du Sureau and surrounded by elderberry trees, Erna's Elderberry House is a European country estate style restaurant divided into three dining areas, each adorned with provincial French-inspired furnishings and antiques. Casual attire is not permitted; jackets are suggested, but not required. A five-course prix fixe menu option is a cost-effective way of enjoying staple dishes. As of 2010, brunch is every Sunday between the hours of 11 a.m. and 1 p.m. Erna's Elderberry House offers an extensive selection of imported wines.
Erna's Elderberry House
48688 Victoria Lane
Oakhurst, CA 93644
559-683-6800
elderberryhouse.com
View Singles Near You