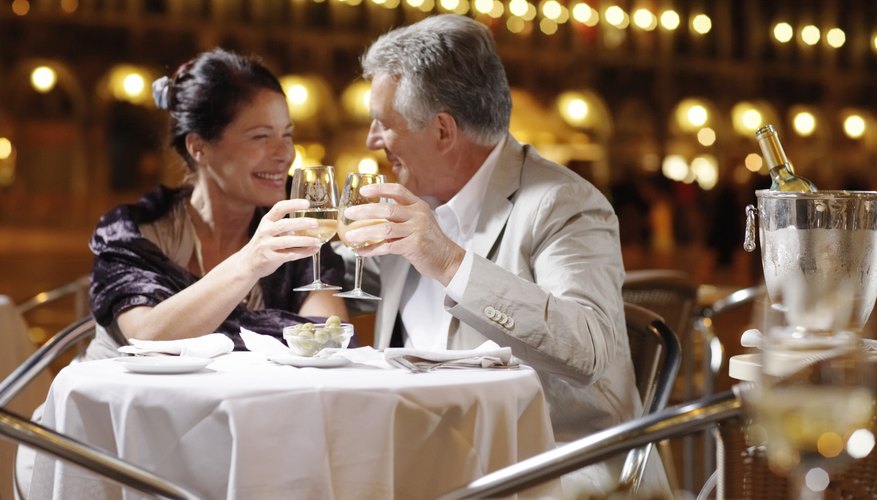 Fore Street
The Fore Street restaurant is located in downtown Portland near the waterfront. This local favorite offers a romantic, charming interior with soft lighting. The focal point is a large wood-burning oven and grill. Chefs prepare fresh dishes in front of you. The Fore Street restaurant uses local, fresh and organic food with a menu that changes by season. Dishes sure to impress your significant other include hand-harvested scallops, island-raised lamb and organic salads. The Fore Street restaurant is open Monday through Sunday serving dinner only.
Fore Street 288 Fore Street Portland, ME 04101 207-775-2717 forestreet.biz
DiMillo's Floating Restaurant
DiMillo's Floating Restaurant was a car ferry converted into a restaurant in 1980. Located on Maine's romantic waterfront, the restaurant gently floats as you relax and dine. DiMillo's is known for Italian cuisine, fresh seafood and prime cuts of beef. Menu items range from Italian stuffed mushroom caps and lobster roll sandwiches to heartier dishes like the beer-battered fish and chips, Black Angus seafood sampler and Tuscan fettuccine. DiMillo's Floating Restaurant serves lunch and dinner Monday through Sunday.
DiMillo's Floating Restaurant 25 Long Wharf Portland, ME 04101 207-772-2216 dimillos.com/restaurant
David's
David's restaurant is located in the historic Portland art district. The restaurant features artful and inspired edible creations in a lively and festive yet romantic atmosphere. With dim lighting and intimate seating options, David's is a good bet if you want to spend quality time with your loved one. Menu entrees include exotic dishes like the ginger and scallion crusted salmon, two textured duck, duo of lamb rack with chicken apple sausage and blackened filet mignon. Dessert options include raspberry Napoleon, white chocolate mousse and creme brulee. Open daily for dinner and weekdays for lunch, David's also offers an extensive list of wines.
David's 22 Monument Square Portland, ME 04101 207-773-4340 davidsrestaurant.com
View Singles Near You