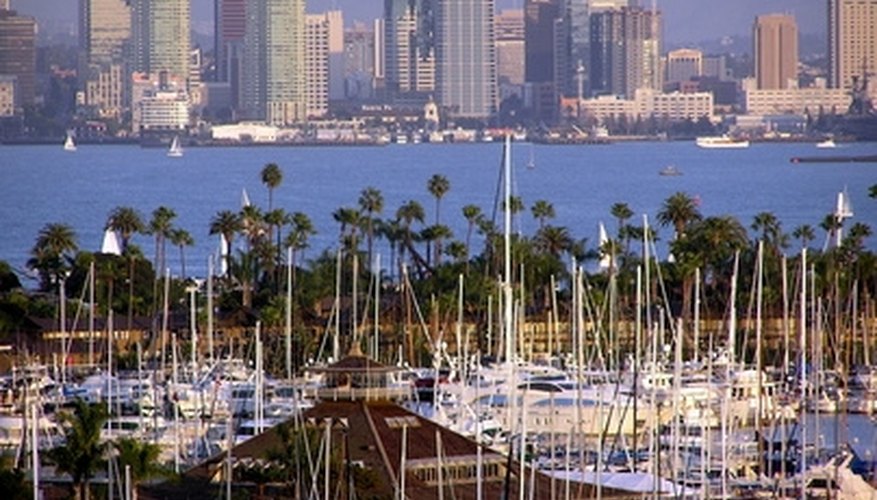 Pacific Terrace Hotel
The Pacific Terrace Hotel is aptly named, with the Pacific Ocean only feet away. Many of the hotel's rooms and suites overlook the ocean. Amenities include private patios or balconies for each room, flat-screen televisions, plush bathrobes, twice-daily housekeeping and nightly turn-down service. The Pacific Terrace has an outdoor pool and spa, offering massage by appointment, as well as direct access to the beach. The shopping and restaurants of Pacific Beach are three blocks away, and SeaWorld is less than five miles away.
Pacific Terrace Hotel
610 Diamond St.
San Diego, CA 92109
858-581-3500
pacificterrace.com
The Westgate Hotel
The Westgate Hotel exudes romance from the first steps into its lobby, which is modeled after Versailles. Standard rooms are an oversized 400 square feet, and suites are also available. All rooms feature balconies, plush robes and slippers and marble bathrooms. Flowers may be ordered to any room or suite from the hotel's floral boutique. The hotel also has a fitness center and spa, offering full services by appointment. Dining options at the Westgate include the romantic Westgate Room, the Plaza Bar or in-room dining. The Westgate is near the shopping and nightlife of the Gaslamp Quarter and Balboa Park.
The Westgate Hotel
1055 Second Ave.
San Diego, CA 92101
800-522-1564
westgatehotel.com
Kona Kai Resort
The Kona Kai Resort and Spa offers island-style guest rooms, each with a balcony that looks out over the marina, the bay or the hotel's gardens. The Kona Kai's full-service spa offers in-room couples massage, along with a host of other pampering services. The grounds also feature a fitness center, a large outdoor pool and whirlpool, bike rentals and a private sunning beach. The Kona Kai dining room serves breakfast, lunch and dinner, and boasts views overlooking the marina. The Kona Kai offers discounted San Diego Zoo tickets to its guests.
Kona Kai Resort
1551 Shelter Island Drive
San Diego, CA 92106
800-566-2524
resortkonakai.com
The Sofia Hotel
The Sofia Hotel is a modern luxury hotel in downtown San Diego. Guest rooms and VIP suites are available for a romantic getaway, complete with in-room spa services from Spa Sofia. Other room amenities include flat-screen televisions, high-speed Internet and large soak tubs. The elegant and trendy Currant Brassiere is the in-house restaurant at the Sofia, and it features what it calls "comfortable yet upscale dining." Near to the Sofia are romantic date destinations such as The Old Globe Theater and the San Diego Symphony.
The Sofia Hotel
150 W. Broadway
San Diego, CA 92101
800-826-0009
thesofiahotel.com
View Singles Near You