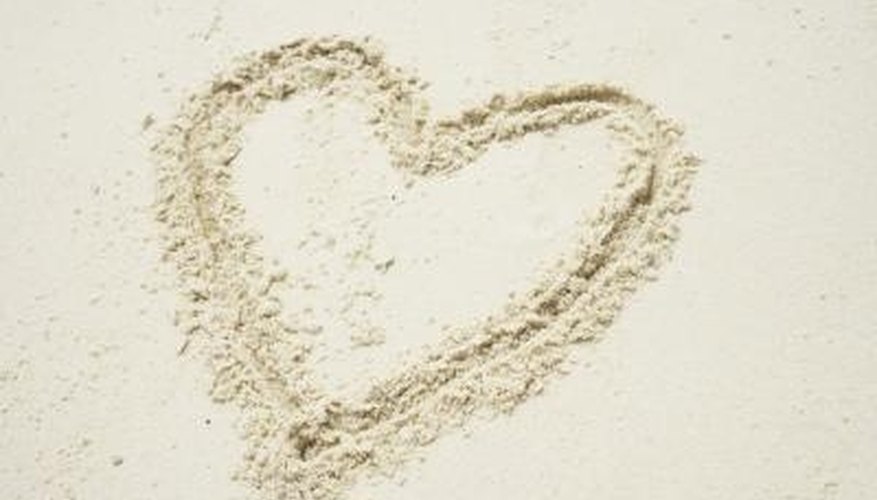 At Home
For a leisurely scavenger hunt that lasts all evening, create a clue for different rooms in the house evoking special or romantic moments. Start with a clue leading to a music player with your favorite romantic song on it. Leave a clue there leading to the dining room, where you've prepared a dish you shared on your first meal together. Hide a clue under the plate which leads to the television and a DVD of the first movie you watched together. Place a clue at the television leading to the bathroom where you have prepared candles and bubble bath, and finally leave a clue leading to the bedroom.
Places
Create a scavenger hunt based on shared romantic memories. Make a list of locations you shared special moments such as your first date or first kiss. Pick places that are not too far apart. Leave a clue in an envelope in each place. If necessary invoke the help of restaurant managers or cinema staff etc. Use sticky tape to attach envelopes to walls or trees, write in chalk or draw in the sand, but be sure not to leave any permanent mark or damage. You should be waiting at the final spot to enjoy a romantic evening together.
Photos
For a quick and easy way to make romantic memories scavenger hunt, hide photos of shared special moments round the house. Write a clue on the back of each photo leading to the next one. Hide the photos in places associated with romance such as a lingerie drawer, the place you always kiss before one of you leaves the house or inside a CD or DVD case of your shared favorite romantic song or DVD. The final clue should lead to a romantic gift.
Edible
Create an edible scavenger hunt by placing clues alongside specially created romantic dishes in different rooms of the house. Pick foods believed to have aphrodisiac qualities such as oysters, asparagus and chocolate. Create a menu of seven or eight small courses which should be eaten in turn to make a complete menu of sensual delicacies. Keep each course light as too much heavy food can be a passion killer. Pay attention to the presentation of each dish so it looks as good as it tastes. Add to the romantic atmosphere with good music, a glass or two of champagne and dim lighting.
View Singles Near You