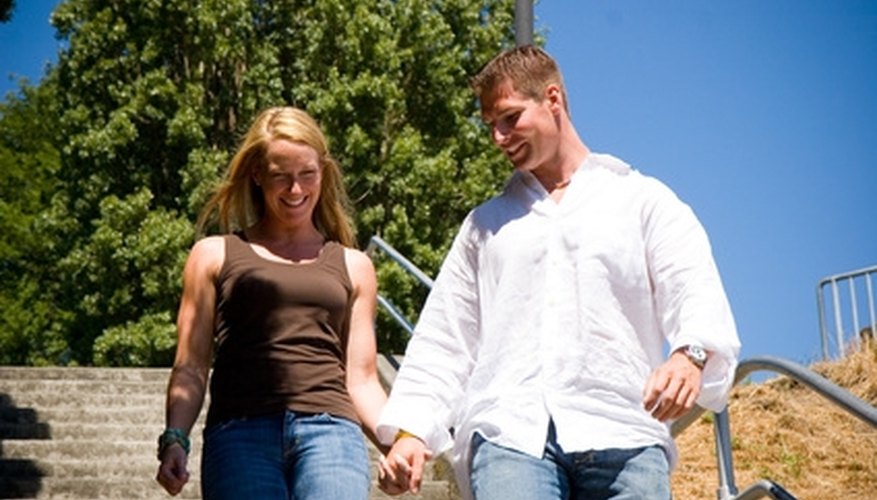 Candlelight Dinner
Plan a candlelight dinner in the comfort of your own home. Choose your menu in advance and, if your budget will allow, opt for finer food than you would normally purchase. Make sure you have a nice selection of wine or Champagne that will pair well with your meal. If your significant other does not drink, sparkling water is another option. Set the table with your nicest silverware and plates, dim the lights and turn on soft music. Make sure you silence your cell phones and turn off the television so you can focus on just each other.
First Date
Use this opportunity to recreate the first time you and your significant other went out. You can either go out to the location and pretend that you are on the date again or, if you are feeling creative, turn your own home into the setting, whether it was a fancy Italian restaurant or a Burger King. Use your computer to print menus with the name of the restaurant you were at and the meal you will be having. Use any photos from your first date as place cards. For a dinner conversation, discuss how you felt that evening and what drew you to each other.
Dinner with a Theme
Base your romantic dinner around menus in your favorite romantic movies such as Chocolat or Lady and the Tramp. Watch the movies after dinner with a glass of wine or coffee. Choose a variety of other themes such as finger foods or aphrodisiac foods. Decorate your dining room to match. Use your computer to print a menu detailing facts about the foods you will be eating. For example, your meal might consist of Champagne, chocolate, artichokes and oysters to pair with an aphrodisiac theme, and you might put a note on the menu about why each of these foods is considered to be an aphrodisiac.
Picnic
If you are an outdoorsy couple, consider planning a romantic dinner outside in a park or on a beach. Try to avoid potato salad and hot dogs by spicing the meal up with exotic Middle Eastern food or couscous from Africa. Add to the atmosphere by bringing a colorful blanket and plush pillow to relax with. If the weather turns sour, move your picnic into your home and recreate the mood. Take turns feeding each other on the floor, as this can add romance and trust in your relationship.
View Singles Near You