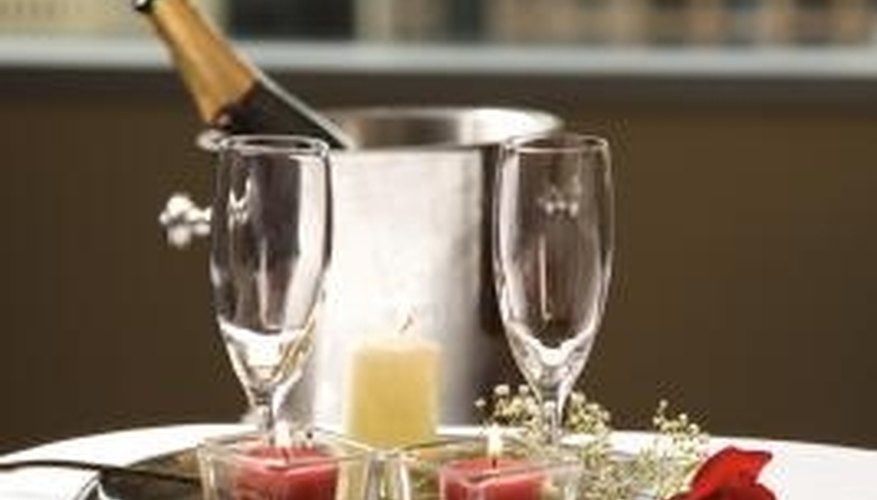 Colorful Spring Table
Create a romantic spring table for your spouse. Adorn the table with a yellow or pastel purple tablecloth and colorful plates. Place yellow roses or other types of spring flowers in a crystal vase, and place this on the center of the table. Sprinkle more yellow rose petals around each plate and around the centerpiece. Place colorful napkins on the right side of each plate with silverware on top of the napkins. This romantic yet fun table setting goes well with all sorts of home-cooked spring dishes, such as roasted chicken with baked pineapple slices and a salad or cranberry walnut salad and chicken kabobs with fruit.
Pink and White Diamond Table with Roses
Create a table featuring pink and white fake diamonds and roses. Place a white tablecloth and white china on the table. Set a clear crystal vase in the center, and fill it with red and pink roses. Adorn the border of the centerpiece with rose petals and large fake white and pink diamonds. Roll napkins into a scroll shape, put fake diamond rings through the napkin roll and set it in the center of the napkin. Place these next to each plate. This romantic table setting works well with any type of home-cooked meal, such as roast quail, turkey or chicken and green beans.
Fall Table
Create a romantic fall table and cook homemade autumn favorites, such as turkey with green beans, stuffing and cranberry sauce or cornbread with a beef pot roast and salad. Place a forest green or cream-colored tablecloth on the table, depending on what type of look you want. Fill a red vase full of red, peach, yellow and cream roses or other types of flowers featuring fall colors. Sprinkle red rose petals around the centerpiece, and place a few baby pumpkins around the vase.
Classic Red and White Roses
Create a table setting featuring classic red and white roses. Adorn the table with a red tablecloth, and place a bouquet of red and white roses in the center. Set the table with white china so it contrasts with the red tablecloth and coordinates with the white roses in the centerpiece. Place small red and white candles around the border of the centerpiece. This romantic table goes well with home-cooked gourmet dishes such as roast duck and steamed vegetables or salmon and spinach.
View Singles Near You