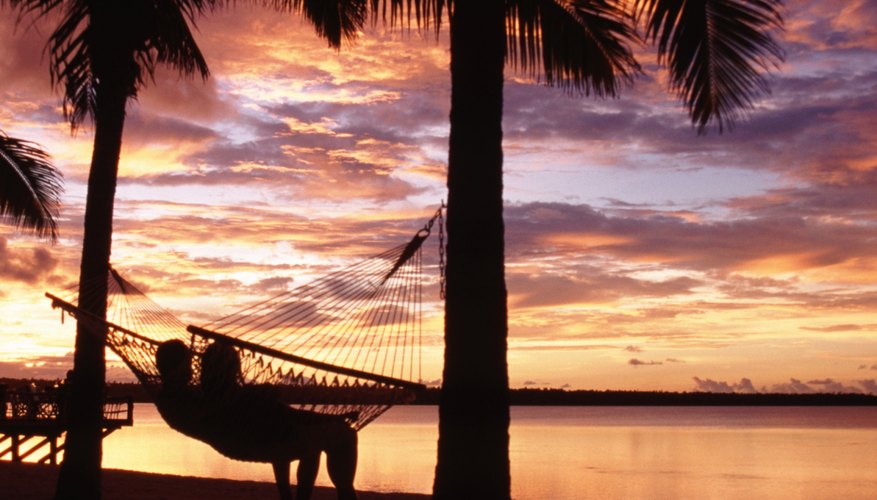 Couples Yoga
Pack yoga mats, green tea for a Japanese tea ceremony, and a flower to present to your loved one. Arrive at the beach before the sun rises and sit together, legs crossed, for several moments appreciating one another. Turn and sit with your backs pressed together. Breathe in while your partner exhales, and vice versa. Do this for several moments until you inhale and exhale in harmony, feeling your partner's back against yours. Work through some gentle yoga movements together, or finish after the breathing exercise. Give your partner the flower and initiate a Japanese tea ceremony, sharing one cup between you, as the sun comes up.
Recite a Poem
Walk with your partner along the beach, shoes off, holding hands. Spend several moments in silence, enjoying the sound of the waves and the feel of the sand on your feet. During a quiet moment as the sun is rising, turn to your partner and recite a poem with special meaning to both of you, or choose a new one to commit to memory, like "Love's Philosophy" by Percy Bysshe Shelley. Alternatively, select a poem that welcomes the sun, like Sylvia Plath's "Southern Sunrise."
Renew Your Vows
Select a quiet place to sit and watch the sunrise, like on a beach-side cliff overlooking the ocean. Prepare your vows beforehand, and as the sun rises before you, turn to your partner and renew your vows. Afterward, finish watching the sun on its journey as you sit quietly together, holding hands. Consider presenting your partner with a new wedding band or other piece of jewelry to mark your time together.
Breakfast Picnic
Arrange a breakfast picnic the night before in a private location that won't be disturbed. Place all the food in coolers and set out a blanket, securing it in place with rocks. Surprise your loved one by waking her early and inviting her for a walk on the beach to watch the sunrise. Plan the walk to end at the picnic spot as the sun rises. Sit together as you enjoy fresh fruit and juice and watch the sun. Consider professing your love or reading a poem.
View Singles Near You