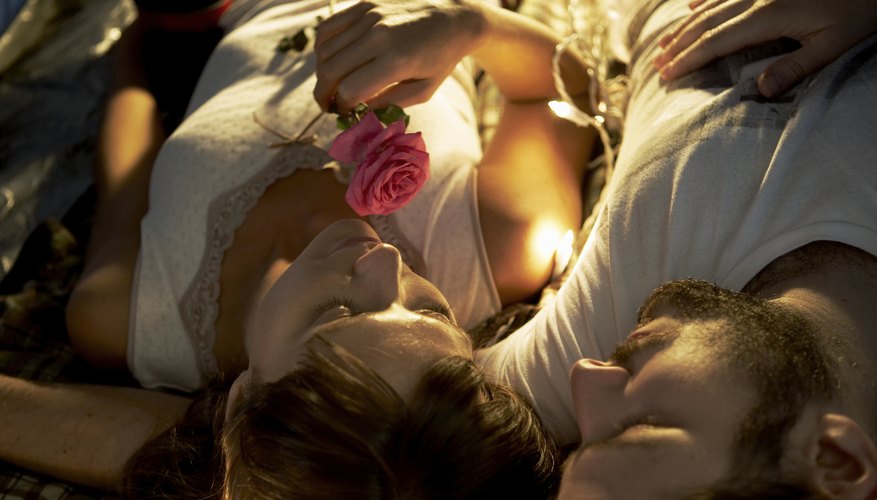 A Romantic Getaway
Leave your loved one tickets to a favorite romantic destination. For some, it might be tickets to Paris, for others, a trip to Fiji. Present the gift by cooking a dinner inspired by the location and hide the tickets on the table. Include tourist brochures about the trip you have chosen, along with information about where you will be staying.
If you want a more affordable gift, consider a night at a nearby romantic bed and breakfast. You can simply leave the brochure on her pillow (along with some chocolate), and she'll get the idea.
Jewelry
Jewelry is something that will delight every time except one—when the object of your affections is expecting a diamond engagement ring and receives a pair of silver earrings instead. Barring that situation, jewelry is a good choice for a romantic treasure hunt. Buy sparkly costume jewelry and create a trail of jewels that direct to a final treasure of something with diamonds, rubies or pearls.
Basket of Sensual Delights
Buy an attractive basket and fill it with lotion, candles, chocolates and champagne and hide it in the kitchen pantry. (She'll reach for a big pot to boil noodles for dinner and find a present.) Include sexy undergarments and erotic playthings. Sensual music is also a nice touch—try something classic like Ravel's Bolero.
Romantic Picnic
Plan a weekend picnic in a beautiful, private location, and pack fine linens and exquisite food (cheeses, wine, caviar). Be sure to include some dark chocolate--the ancient Mayans and Aztecs enjoyed it for centuries (considering it an aphrodisiac), and your beloved is sure to appreciate it as well. Hire a trio of mariachis to serenade you both, or even a harpist to play while you eat.
Spa Gift
Purchase a certificate for a day at a spa, or for a spa treatment that your beloved wouldn't buy for herself. A hot stone massage, a manicure with a pedicure or a body wrap are all good choices. The gift certificate should be open so that she can choose the best date to indulge herself. An alternative to a spa gift certificate is a spa in a basket. Gather together a bath scrub, a couple of bars of finely milled French soap, a bottle of bubble bath and a pumice stone. Arrange them in the basket, and include a fragrant candle.
References
View Singles Near You