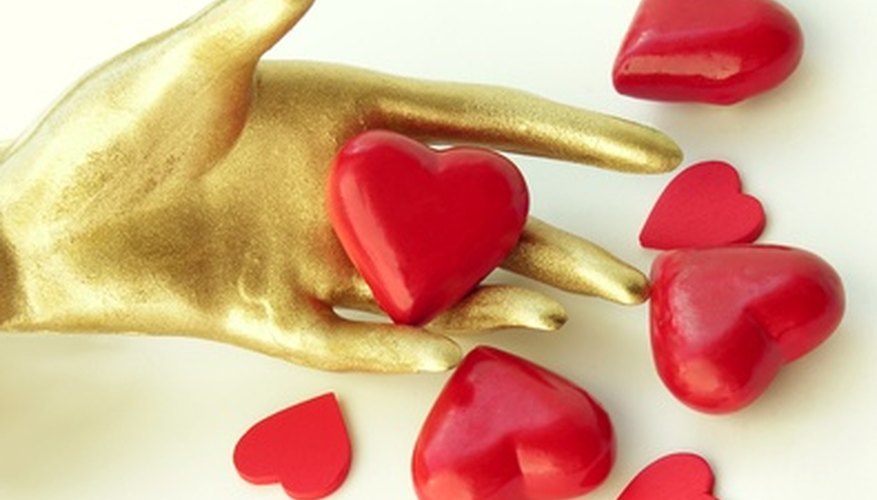 Foods
A "heart" says Valentine's Day like no other symbol. Use your imagination and make heart-shaped foods as an alternative to the traditional box of chocolates. Cook heart-shaped pancakes, cut heart-shaped sandwiches or bake a heart-shaped cake. Dip strawberries in chocolate together for a sensual experience. Indulge in other "love foods" by feeding each other oysters Rockefeller, brandied truffles or salmon mousse on toast points.
Fantasies
Instead of a card, give "love coupons." Make them by hand or create them on the computer. Include little tasks that your honey doesn't like to do, but you will gladly do for her. Include the big ticket items that fulfill fantasies your lover has revealed to you. Take pictures together. Resurrect the French maid and Superman costumes from Halloween and record your antics on film. Set the timer and take a serious "couple" picture and display it for all to see.
Gifts
Commemorate your love with a CD that you compiled of songs that signify a special event or moment in your relationship. Write the story of your romance, and present it to your sweetheart. Make it scrapbook style including mementos and favorite pictures. Create a storybook with you and your sweetie as the romantic hero and heroine. Select Internet sites allow you to create professional-looking books online.
Decorations
Instead of sending flowers, make a Valentine tree. Sales after Christmas present the perfect opportunity to purchase a tabletop tree. Go for glamour and buy a pink aluminum tree or a white-flocked tree wrapped in pink or red twinkle lights. Decorate it with festive bows, small heart cookie cutters, wax candy lips, tiny heart ornaments or other novelty items that suggest love and romance. Hang a jewelry gift on the tree, or lavishly wrap your presents and place them beneath the tree.
Couples Activities
Read romantic poetry to each other surrounded by candlelight while sipping champagne. Play a love game that you created or purchased. Paint each other with edible paints. Leave love notes in a special container at a pre-designated spot throughout the month of February. Hide notes that leave a sequence of clues that lead to your Valentine surprise.
View Singles Near You