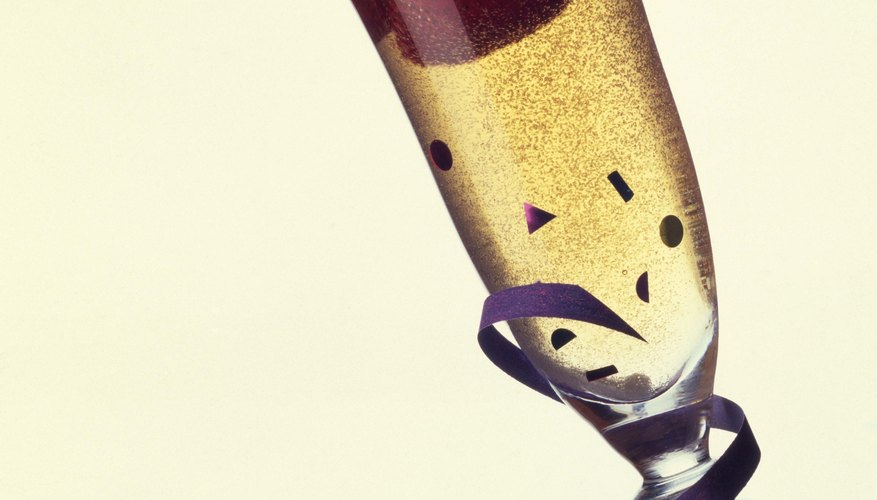 Step 1
Hull the strawberries with a knife or strawberry huller. Rinse the strawberries under cool running water to remove any dirt or dust. Pat the strawberries dry with a paper towel.
Step 2
Place a strawberry in the bottom of a champagne or wine glass. Tie a red streamer around the stem of the glass into a bow. Pour champagne over the strawberry.
Step 3
Take a strawberry and use a knife to make several cuts into a strawberry from the bottom so the cuts go about two-thirds of the way into the strawberry. Fan the strawberry slightly. Place the strawberry in the bottom of the glass or set it on the side of the glass. Purchase or make chocolate-covered strawberries. Make sure that the strawberries are cold and the chocolate is hard. Place a cut in the bottom of the strawberry. Set the chocolate-covered strawberry on the edge of a champagne flute or wine glass. Fill the glass with champagne.
Step 4
Tie a tea rose to the stem of a champagne flute with a ribbon. Make strawberry puree (strawberries, granulated sugar and lemon juice) and add a small amount to the bottom of the champagne glass. Pour champagne on the top of the puree.
Things You Will Need

Knife or strawberry huller
Paper towel
Champagne flute or wine glass
Ribbons
Tea rose
Strawberry puree
View Singles Near You