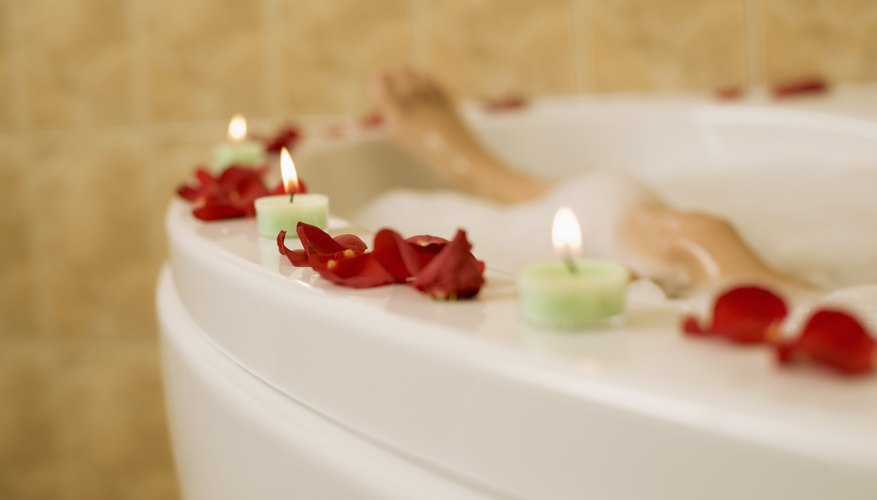 Beautify Your Bedding
Unless you are staying at a five-star establishment, the average hotel bedding is not very attractive nor appealing. To add ambiance to your hotel room, strip the bed of its original bedding and temporarily place it in a drawer or closet. Replace it with satin sheets, satin pillow cases and a duvet cover to revamp the hotel bed and make it more romantic. Keep romance in mind when choosing replacement bedding and pick from colors like red, black or white.
Dim the Lights
Hotel lighting is not the most flattering, nor is it the most romantic. You can create truly romantic lighting by decorating with candles. Place them around the room on tables, dressers, bed tables, shelves or any other flat surface in a well-ventilated space, free of fabrics, draperies or other flammable materials.
Use Flowers
Flowers and romance go hand in hand, so a floral decor is a must when it comes to decorating a hotel room. Use rose petals, either real or artificial, to transform your hotel room into a romantic suite by scattering them randomly throughout the room. Put them on the floor, on the counter tops in the bathroom, and on tables and window sills or use them simply to create the shape of a heart on the center of the bed. Place a vase of fresh flowers or a single flower on a table or bedside table to complete the look.
Create Your Own Spa
Whether your hotel room has a whirlpool, garden tub or just a standard bathtub, you can create a romantic setting in the bathroom with rose petals, candles, bubble bath and champagne. Set champagne glasses and a bottle of champagne on the edge of the tub, or on the floor beside it. Scatter rose petals around the bathroom, and even inside the tub. If the hotel doesn't provide bathrobes, bring your own and put them in the bathroom within reach.
Create Romance with Scents
When you're trying to make your hotel room more romantic, give the room a sexy scent. Most hotel rooms don't smell all that appealing, but you can easily change that by lighting scented candles or setting up reed diffusers in one or two areas in the room. Or simply spritz perfume or cologne on all of the light bulbs in the hotel room. The heat from the light will spread a pleasant scent throughout the room and give it a romantic feeling.
View Singles Near You