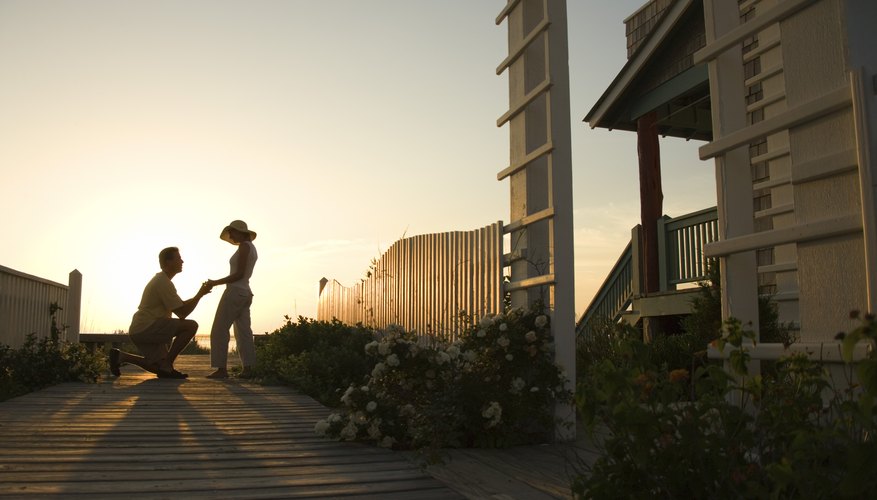 In a Bath
Run a bath for your girlfriend. Create a romantic atmosphere by lighting candles and playing soft music in the background. Pour scented bath bubbles into the tub and place a glass of champagne near the tub. Get a floating rubber duck and tie the ring around its neck before placing it in the tub. You can also add extra romance by placing rose petals on the floor. Bring your girlfriend into the room when the scene is set and watch the surprise and joy on her face as she discovers the ring.
Scavenger Hunt
Surprise your lover with an entertaining game that has a ring hidden at the end. Make a simple scavenger hunt. Place a note on the refrigerator with a clue leading to a spot in the house. Each spot should give a clue to another spot. Add a romantic touch by leaving a rose, a glass of champagne or a note stating, "I love you," next to each clue. The last clue should lead to the ring sitting on a note stating, "Will you marry me?"
Gift Box
Use a box as an entertaining and romantic way to present the ring. Buy a large box that you can curl up in from the bottom. When you are ready, take the bottom out and wrap the box in gift wrap. Take the box to your girlfriend's work place and ask a co-worker to tell her a package has arrived. When she unwraps the box, hold the ring in your hand and ask her to marry you.
Finding it by Surprise
Hide the ring in her home, but make sure it's in a place she will look, such as the butter dish in the morning when she makes toast. Alternatively, you can place the ring in her makeup drawer. When she pulls it open to get ready in the morning, the ring will be sitting on a note that states, "Will you marry me?"
View Singles Near You