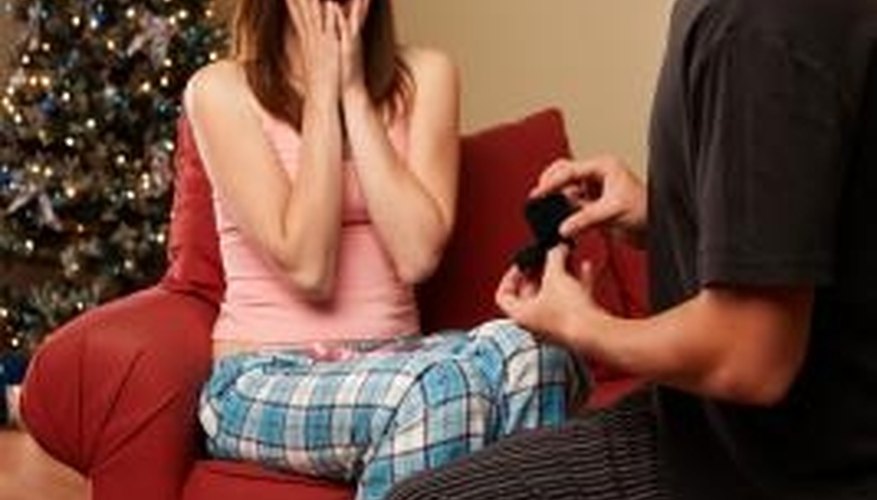 Use an Ornament
Help her picture your future together by buying a picture frame ornament. Look for an ornament that's engraved with a title such as "Our First Christmas." Write up a proposal onto a card that will fit inside the frame. Hang it on the tree and lead her to it, or wrap it up and place it under the tree. After you get married, you can replace the card with a wedding photo, or leave the card inside so you can reminisce about the proposal every Christmas.
Snow Picnic
Take her into a snowy winter wonderland to pop the question. The snow creates a magical feeling and she'll have to cuddle with you to stay warm. Wait until it snows, then cover an outdoor table with a tablecloth and set up champagne and dessert. Bundle her up, blindfold her and lead her outside. Once you reach the table, take off her blindfold, get down on one knee and ask her to marry you. After she says yes, celebrate with a picnic. If you live in a warm area, create your own winter wonderland by covering the yard with fake snow.
Gifts from Family
Get your families involved by proposing when everyone is together. Write up the words "Will," "you," "marry" and "me" onto four different pieces of paper. Place each paper into a separate box and wrap them. Explain the plan in advance to the families and give one box to each of her closest relatives. Once you're all together, have them hand the boxes to her one at a time. Once she opens each box and has figured out the message, hand her the last wrapped box with the ring inside.
At Midnight
Proposing at midnight on Christmas Eve guarantees that the engagement ring is the first Christmas gift she receives. Make it an intimate and low-key proposal by lighting some candles and proposing next to the Christmas tree. Tell her to stay out of the room while you place her Christmas gifts under the tree. Turn on the tree lights and set up candles nearby. Turn on her favorite Christmas song and call her into the room. If she's asleep, wake her up and ask her to come into the room. Explain that marrying her is the only Christmas gift you want.
References
View Singles Near You