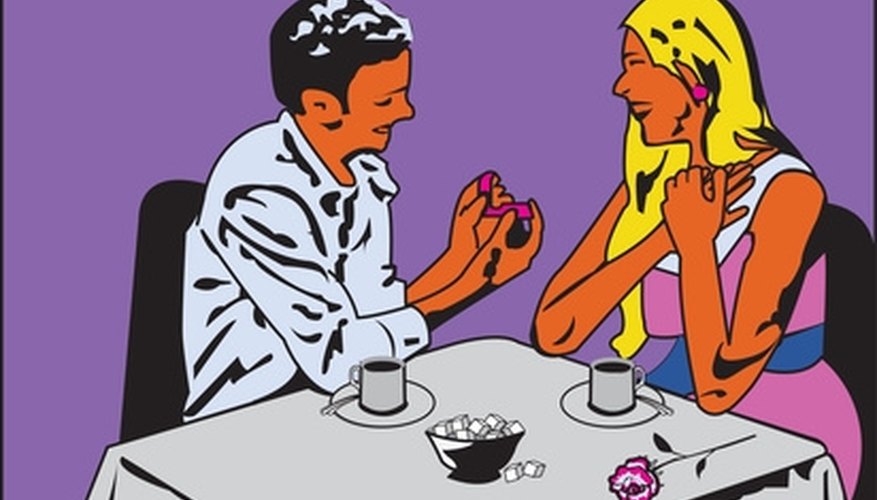 First Date Flashback
Whether you've been with a girl for five years or five months, your first date is something special, the moment in which you started the successful relationship you have today. Come full circle and propose to a girl by re-creating your first date. Take her back to the location of your first date, be it a restaurant, movie theater or bowling alley. Do your best to recapture the details of your first date, such as the songs you listened to, the clothes you were wearing and the dishes you ate. This will show the girl you want to marry that you actually remember the details and that you'll be sure to remember your anniversary, as well.
Lead the Way
Take your girlfriend on a romantic journey and lead her in the direction of love at home. Before she arrives home, create a trail leading from the front door to the bedroom. Line your trail with roses, candles or small notes that detail romantic moments of your relationship. When she arrives at the end of the trail, you can either have an engagement ring positioned by itself on a pillow or be down on one knee holding it out to her. The path will already be romantic enough, but when she finds an engagement ring at the end, the moment will become one of unforgettable romance.
Secret Message
You don't have to put on a gorilla suit or stand on stage at a rock concert to propose to a girl. A more discreet, sneaky message can be just as romantic. Surprise your love with a secret message proposal. Spell it out with refrigerator magnets or scratch it into her windshield on a frosty morning. Order a cake and have the baker write "Will You Marry Me?" with the icing. Go to the beach and write your proposal in the sand. This is a romantic way to propose to a girl because she'll never see it coming and will appreciate the subtle, cute approach.
View Singles Near You