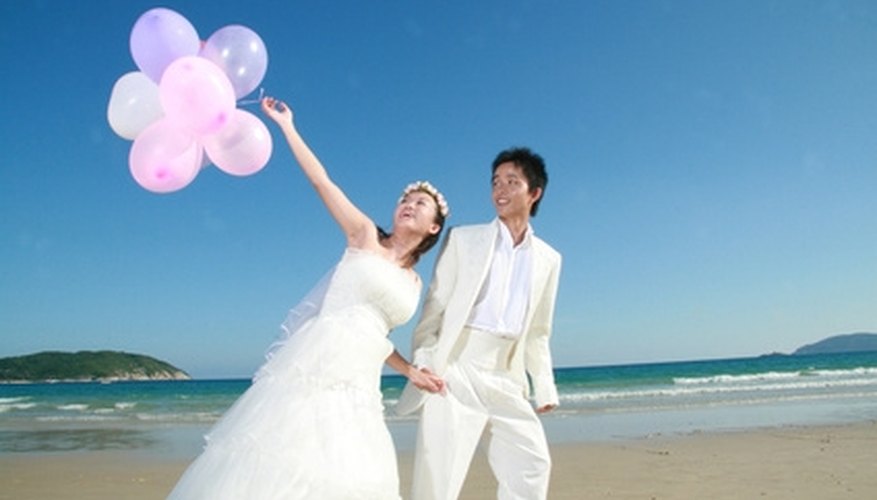 Disney Princess
Create a wedding fit for a princess, a Disney princess. Arrive or leave the ceremony in a horse-drawn carriage. Wear a full princess ballgown. Have guests blow bubbles as you walk down the aisle. Play classic Disney princess love songs for your processional and dance time. Have your reception at a castle-like venue.
Champagne and Chocolate
Go ultra sleek and sexy with a champagne and chocolate theme. Serve champagne with raspberries and strawberries in the glass. Set up fondue pots or chocolate fountains on each table as the centerpiece. Be sure to have several dipping options in bowls around the chocolate fountain. Use brown and cream as your colors so everything from the table linens to the stationary look like they've been dipped in chocolate and champagne.
Winter Wonderland
For a romantic winter wedding turn your ceremony and reception into a winter wonderland. Use white twinkle lights to light your reception tables. At the end of the night have a snow machine shower gentle snowflakes down on your guests during the last dance. Have ice sculptures or ice fountains as your centerpieces.
Romeo and Juliet
Re-create the passionate love affair of Romeo and Juliet for your wedding. Write your own vows in Old English and recite Shakespeare love sonnets. Choose flowers with specific meanings to express your love and devotions such as the stephanotis (happiness in marriage), calla lily (Beauty) and orchid (love). Wear an old Elizabethan bridal gown. Hire a couple of actors to re-create a scene or two for your guests at the reception as entertainment. Send your invitations out on scrolls written in ink calligraphy.
Valentine's Day
If you get married on Valentine's Day or the week of Valentine's Day, have a Valentine's theme. Use red and pink as your color scheme and have guests toss red heart petals on you as you walk back down the aisle as man and wife. Create centerpieces out of stacks of fresh strawberries. Send out heart-shaped invitations and have a connected heart cake where two hearts come together to form one.
View Singles Near You