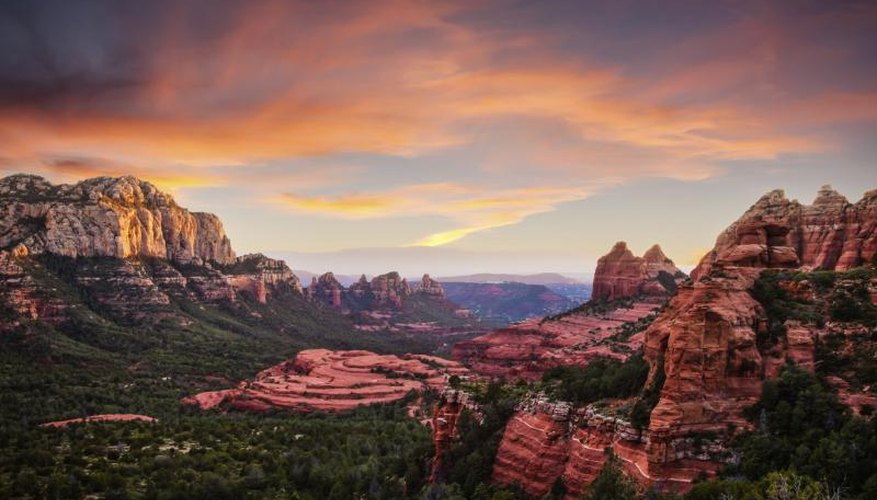 Southern Pride
Tucked away in southern Arizona, Tucson offers an array of romantic attractions. Enjoy a night of downtown fun as you and your sweetie dance the evening away in high-end nightclubs, dine in gourmet restaurants and view public art displays. Take a leisurely stroll hand-in-hand with your honey at Tohono Chul Park, a 49-acre desert garden where hummingbirds buzz around honeysuckle and native palms. For a sweeping view of the city's sparkly lights, visit Kitt Peak National Observatory, perched high above Tucson in the Quinlan Mountains. One hour south of Tucson are the sister cities of Sonoita and Elgin, two tiny towns known for their rustic vineyards. Join your honey for an afternoon of wine tasting at the area's nine wineries or embark on a horseback ride through the rural region, where the towering mountains stretch as tall as 9,000 feet and serve as a backdrop for sweeping green grass prairies.
At the Center
The capital city of Phoenix is located in the heart of Arizona. Dress up to the nines and soak up the city's rich arts scene, such as ballet and opera performances at the elegant Symphony Hall and Broadway shows at the Orpheum Theatre, a former 1929 movie palace. For an added bit of elegance, book a room at the Arizona Biltmore, a luxury 1929 hotel with eight swimming pools and villas with fireplaces, balconies and massive Roman tubs. The mountain town of Prescott is approximately 90 minutes northwest of Phoenix. Rent bikes and explore the city's 16 parks or take a romantic canoe ride on its three lakes. Prescott Strings Chamber Orchestra presents free concerts at the ornate St. Luke's Episcopal Church, while touring musical acts perform at the lavish 1905 Elks Opera House.
I-40 Adjacent
Nestled along Interstate 40, Flagstaff sits at the base of the San Francisco Peaks and opens up to vast wildflower-filled meadows. Make your way to Lowell Observatory and gaze into the galaxy or watch laser shows with your sweetheart by your side. Book a room at the Inn at 410, an 1894 bungalow, where some rooms include private porches with garden views. The bright red rocks of Sedona dominate the landscape of this quaint little town, just 45 minutes south of Flagstaff. Set out for hikes in the picturesque setting, pausing to steal a kiss from your honey alongside colorful rock formations, stone spires and craggily canyons. Leisurely peruse the town's more than 40 art galleries or treat yourself to side-by-side massages in one of the dozens of regional spas.
Northern Exposure
Take your time soaking up the sights of Grand Canyon National Park, a 277-mile-long, 1-mile-deep and 18-mile-wide crevice, colored with a splattering of rich reds, oranges and yellows. During the winter, the dusting of snow only adds to the canyon's ethereal and romantic appearance. For an added bit of romance, step back in time with a ride upon the Grand Canyon Railway, a more than two-hour ride from the town of Williams to the park aboard a chic 1950s diesel locomotive. Based in the northern-most region of Arizona, Lake Powell is a man-made lake created due to the presence of the Glen Canyon Dam. Embrace the rural surroundings of Lake Powell and take in panoramic views of the towering cliffs and earth tone canyons that surround the sparkling blue waters. Spend a quiet afternoon fishing, kayaking or swimming with your partner by your side. Lined with 2,000 miles of shoreline property, Lake Powell also has numerous houseboats that canoodling couples can rent.
View Singles Near You