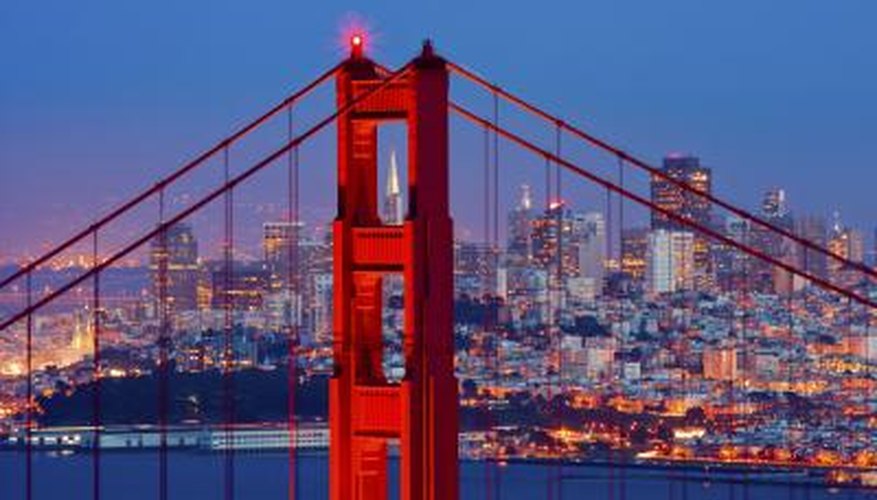 Heart-Snatching San Francisco
Expensive, trendy, invaded by techies; say what you will, San Francisco proper still charms couples with its Victorian houses, urban parks and expansive waterfront. Treat yourselves to the elegant, old-world charm of the Huntington Hotel on ritzy Nob Hill, within walking distance of the city's swankiest restaurants as well as the innumerable Chinatown eateries. Tour the bay-front on foot, stroll through lovely Crissy Field and the Marina Green, with the Golden Gate Bridge half covered by fog on one side and the new-and-improved Bay Bridge to the east. Pick your pleasure in terms of neighborhoods to enjoy: funky Haight-Ashbury, artsy Mission or the peaceful Pacific front in the Outer Richmond. If museums excite you, check out the gorgeously located Legion of Honor, or the De Young in Golden Gate Park.
Berkeley Hills
If you put Berkeley in the category of a cheap-eats college town, you are only partly right. The flat lands near the Bay are lined with student rentals and Shattuck and Telegraph can't be beat for great, inexpensive ethnic restaurants, but the Berkeley Hills, just behind, hold romantic delights. The spacious and graceful Claremont Hotel is about as close as you can get to a castle in this part of the world, and couples can hit the tennis courts, swim or indulge at the decadent spa. You can hike or laugh your way through a carousel ride at Tilden Regional Park above Berkeley, or enjoy biking, sailing and great food and sunsets at the Waterfront Park on the west end of town.
Half Moon Bay
Twenty-eight miles south of the City, but a world away. Half Moon Bay is cute and charming, with its main street lined with little shops and restaurants and the entire Pacific Ocean just to the west. Drive down the coast highway for a romantic introduction to the area, with high cliffs over big waves. Stay a few miles away in the serene luxury of the intimate Seal Cove Inn in Moss Beach, where your guestroom balcony overlooks the rocky beach below. During the days, bike or hike the area, visit local art galleries, eat wonderfully fresh seafood and stroll empty beaches hand in hand.
Napa Valley Vineyards
Food, wine, spas, scenery -- all of Napa Valley's fortes make it a top choice for a romantic Bay Area getaway. The weather is warmer than in San Francisco, the parking easier, and then there are those glorious vineyards stretching out on every side over hills that roll like waves. Whether you stay somewhere luxurious and pricey, like the secluded Auberge du Soleil, or rent a vacation cottage, touring the vineyards and the artsy wine towns of Sonoma and Napa makes for fun and romantic afternoons.
View Singles Near You