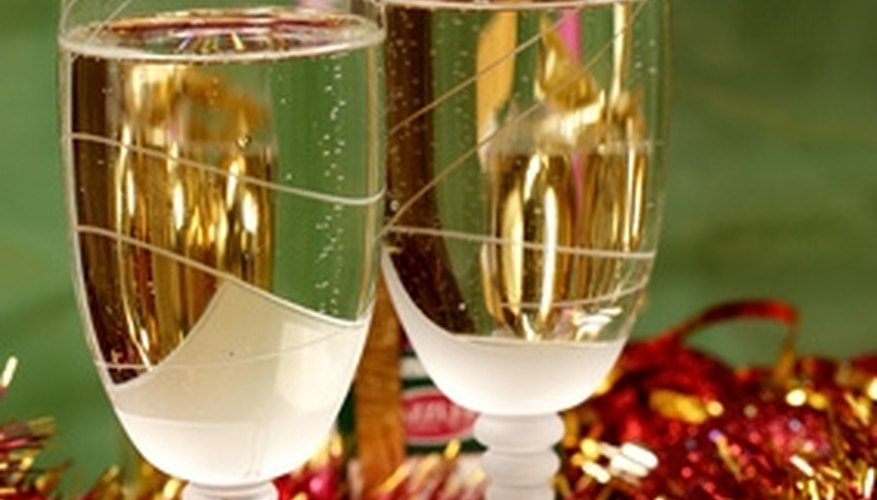 With its rolling hills and flourishing farms, the state is a haven for romantic getaways any time of the year. But on December 31, the New Jersey air becomes energized with the promises of a new year and fireworks shooting from all directions. Whether you live in New Jersey or simply enjoy vacationing there, the state offers a variety of romantic New Year's getaways.
The Inn at the Shore
For a romantic and intimate new year's getaway, spend a few days at the Inn at the Shore, a quaint bed and breakfast in Belmar.
Built in 1880, the home features Victorian embellishments, including antiques, ruffled curtains, quilts and floral upholstery. For a romantic setting, choose the Emily room with its king-sized bed, fireplace, private bathroom and Jacuzzi tub. Guests also enjoy access to the dining area and living room, which is equipped with a fireplace and entertainment center. A wraparound porch also features rocking chairs and gliders, providing a perfect setting to wrap up in a cozy blanket with your loved one. The Inn's "New Year's Special Package" includes two nights' lodging; a gift certificate for a romantic dinner; your choice of wine, champagne or sparkling cider; chocolates; and the opportunity to check out late on New Year's Day. For your romantic getaway, you might also indulge in a couple's massage at the nearby Spring Lake Therapeutic Massage. The Inn at the Shore 301 Fourth Ave. Belmar, NJ 07719 732-681-3762 theinnattheshore. com
Overnight Romantic Adventure Getaway Package
Take your love to the sky and celebrate the new year with a hot air balloon adventure.
Located in New Jersey's Hunterdon County, In Flight Balloon Adventures offers an "Overnight Romantic Adventure Getaway Package. " Weather permitting, the company flies 365 days per year, offering both sunrise and sunset flights. During your hour in the sky, you will enjoy picturesque views of New Jersey's hills, fields and homes, most of which will likely be covered in a glittering veil of snow. After the flight, passengers are treated to complimentary hors d'oeuvres and champagne with the pilots and other balloon passengers. The romantic adventure package also includes dinner and a one-night stay in the local bed-and-breakfast of the couple's choice. In Flight Balloon Adventures Modica Farm (launch site) Clinton, NJ 08809 888-301-2383 baloonnj. com
Spirit of New Jersey New Year's Eve Cruise
For a romantic yet energetic New Year's getaway, take a cruise on the Hudson.
The four-hour Spirit of New Jersey New Year's Eve Cruise is "alive with vibrant dining, dancing, entertainment and breathtaking views," according to PyiReservations. com. The dinner buffet features an extensive array of salads, entrees, side dishes and desserts and the premium open bar features an extensive array of beverages. The cruise departs from Lincoln Harbor Marina in Weehawken, New Jersey, for a three-hour cruise on the waters. Guests can enjoy live entertainment, music, dancing, outdoor observation decks and a champagne toast at midnight. After the cruise, spend a romantic night at one of New Jersey's cozy inns or intimate hotel suites. Spirit Cruises Lincoln Harbor Marina Weehawken, NJ 07086 866-483-3866 spiritcruises. com
View Singles Near You