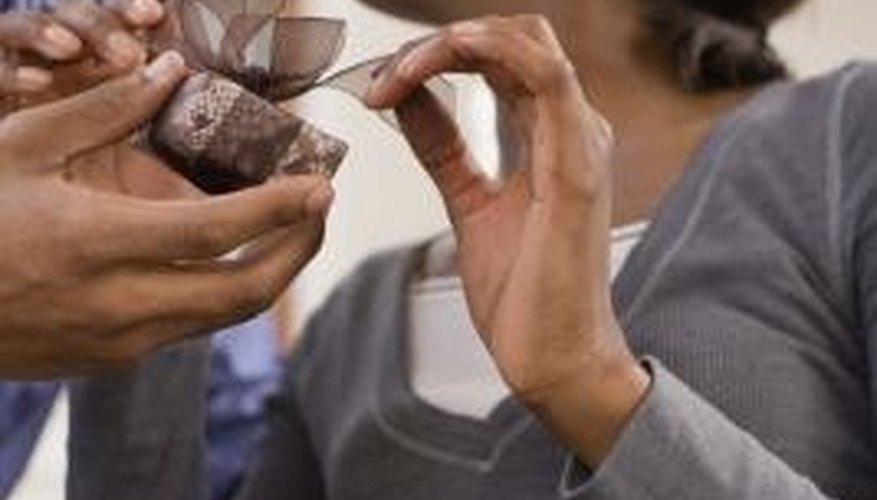 Engraved Jewelry
Give him a piece of engraved jewelry. Watches are a good gift because they allow you to engrave something on the back like the dates you have been together, the date you met or a sentimental phrase. Another type of jewelry is a ring. This has a large enough area for you to have something simple engraved. Choose something he will wear often so he is always thinking about you.
Favorite Childhood Item
Since you have spent lots of time with her, you know what some of her favorite things were as a child, like her favorite book or movie. Choose one of these things to get for her. It may be out of print so it might take some time to find. You also want to make sure it is in good condition. You can even choose a favorite toy she had.
Getaway
While getaways are a typical romantic idea, you can make yours special in several ways. One is to surprise him. Tell him the type of clothing he will need to bring and for how many days. Another idea is to go someplace you both have always wanted to go. Choose a hotel that has a romantic atmosphere as well as room service and other amenities so you can fully relax while you are on vacation.
Homemade Item
While not always expensive, a homemade item shows that you took the time and effort to choose and make something very special. One simple thing is to make a slide show or a scrapbook of pictures from your past adventures together. Sprinkle quotes and little captions throughout. Stretch yourself and create something you know he will love. It doesn't have to be something big, just something that comes from the heart.
View Singles Near You