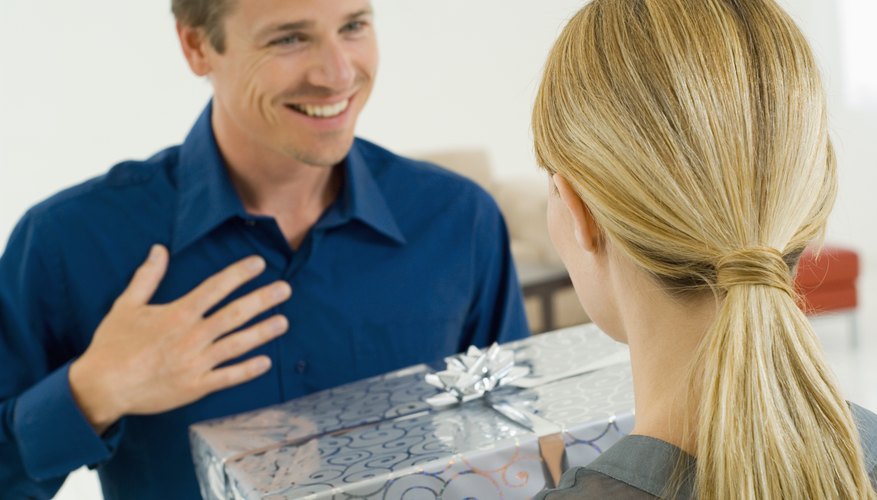 Hand-Made Photo Frame
While you can easily purchase a photo frame at virtually any retailer, a hand-made one is a far more sentimental gift. Purchase inexpensive unfinished wooden frames at most craft stores, such as Hobby Lobby. Use craft paint, scrapbook paper and stickers to create a one-of-a-kind frame for the man in your life. Complete it by adding in your favorite photograph of the two of you together.
Scrapbook
If you are planning on beginning the gift several months in advance, create a one-of-a-kind scrapbook of your time together. Choose to buy all of the parts separately or purchase a pre-made scrapbook kit. Take all of the photographs you have of the two of you and combine them into a showcase of your relationship. Hobby Lobby, Archiver's and Micheal's all sell a variety of scrapbook supplies and papers.
Pre-made List Book
Similar to a scrapbook, a pre-made list book showcases the time you have spent with the man in your life. These books are available through purchase at retailers such as Barnes and Noble. They are essentially fill-in-the-blank books with a different prompt on each page. They will ask you to record specific moments in your history together and list facts specific to you as a couple, such as when and how you met. An example of one of these books is "The Story of Us" by David Marshall.
Childhood Nostalgia
Items that bring back strong memories of childhood make ideal sentimental gifts. Childhood nostalgia evokes feelings of happiness and can eliminate stress. If you know what his favorite cartoon character is, buy him some form of memorabilia of that particular character, such as a vintage tin lunch box. If he has told you about a gift he always wanted as a child, but never received, see if you can find it through an online auction.
References
View Singles Near You