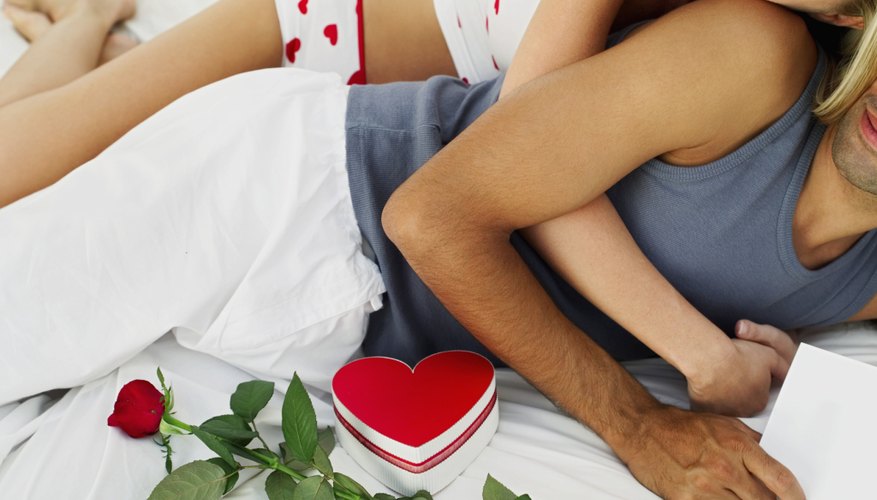 Step 1
Book a hotel room that has a large, round Jacuzzi tub, nice view and king-size bed, if your budget allows. A basic hotel room can also work, but having extra space and a tub provides more opportunities for romance.
Step 2
Visit the room in advance and remove the existing bedding and pillow cases. Place the hotel bedding in a closet and then adorn the bed with your own white silk or satin bedding. The silk creates a soft effect and white bedding always stands out in a room full of red roses.
Step 3
Use red rose petals to make a giant heart directly on the bed. Sprinkle additional rose petals on the pillows and around the bed.
Step 4
Place chilled champagne in an ice bucket directly on a nightstand by the bed. Many hotels come equipped with rounded ice buckets that blend with the room. Place chocolates inside non-fragrant mesh sachets and set these inside the bouquets as an additional surprise.
Step 5
Place a bouquet of red roses next to the champagne and set more bouquets throughout the room on other nightstands and dressers. You can also use ribbons to tie more roses on the four posts of the bed.
Step 6
Place candles around the tub and remove nearby towels to eliminate fire hazards. Sprinkle more rose petals in and around the tub.
Step 7
Set a CD player playing romantic music within the room and dim the lights.
Things You Will Need

Silk or satin bedding
Red rose petals
Champagne
Ice bucket
Chocolates
Non-fragrant mesh sachets
Red roses
Rose petals
Ribbons
Candles
Romantic CD
CD player
Tip
If your budget allows, bring in additional presents and massage oil. Get permission from the hotel manager to hang rose or floral string lights along the window.
View Singles Near You