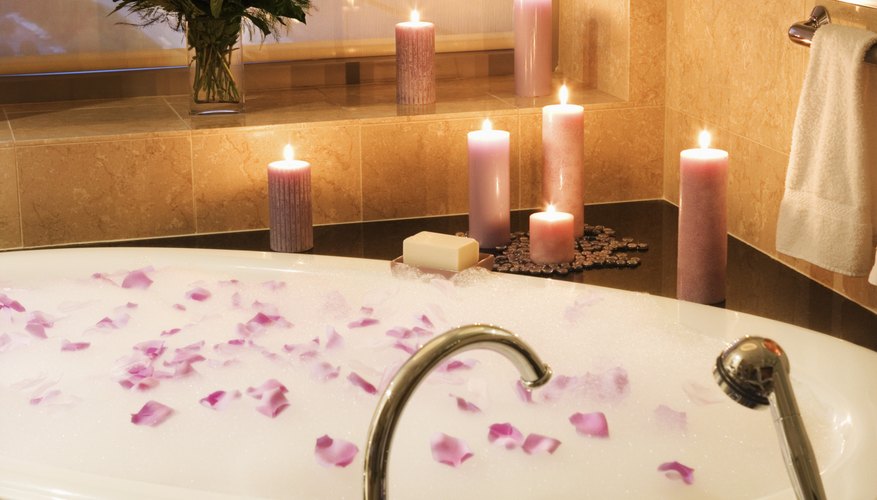 Step 1
Soften the lights in the room to calm the visual senses. Use a soft, low-watt bulb. If you want to change the color of the bulb, make it pink for a romantic low-key atmosphere, red for a passionate affair or lavender if you're doing this for a woman; — lavender is a color that symbolizes femininity and elegance, according to the color theorists at Princeton Online Incredible Art Department.
Step 2
Modify the color scheme of the room. Use neutral shades for most of the room, with a few splashes of color throughout. Use the same color theory rules as in the first step (red, pink, lavender) for developing your romantic theme. If you're turning the bedroom into a romantic place, one option is to drape the room in all-white sheets, curtains and rugs, then add red, pink or lavender pillows, throws and shades. If you're modifying a bathroom, run a bubble bath, add tan rugs and curtains, then sprinkle lavender flowers on the bath bubbles.
Step 3
Burn a few scented candles throughout the room and spritz all fabric surfaces with an inviting scent. Scents commonly associated with a romantic atmosphere include lavender, pumpkin pie, jasmine flower, vanilla and rose.
Step 4
Replace bed linen (if decorating a bedroom) with 300-count Egyptian-thread sheets. Egyptian cotton is one of the most soft and luxurious fabrics on the skin. Another option is a high-grade silk. If you're setting a living room, drape the couch with a plush high-count cotton throw so that when your partner relaxes, she can feel the softness on her skin and face.
Step 5
Play gentle, romantic music softly in the background to appeal to the sound senses. Smart picks include jazz, R&B and soft rock. Make the pick depending on your partner's taste.
Step 6
Place foods through the room at various points that will appeal to your sense of taste and put you both in the mood for love. Many believe oysters are an aphrodisiac, as are nuts, figs and chocolate. Place them in dishes that coordinate with your color theme of choice.
Things You Will Need

Low-watt bulb
Candles
Scented fabric spray
Linens and other fabric decor
Romantic music
Aphrodisiac foods
View Singles Near You