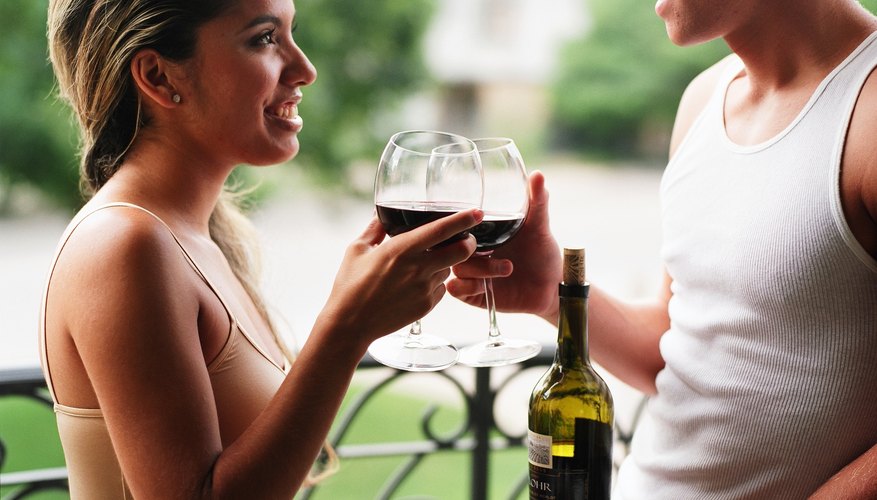 Be Vulnerable
Being open and vulnerable with your date will show him that you are not putting on a show and that you possess true confidence. Rori Raye, author of "Have the Relationship You Want," states on eHarmony.com that a man is not simply attracted to a woman's beauty, but he likes when she strips away her pretenses and defenses, lets down her guard and speaks from her heart. Express your genuine, authentic emotions and do not be afraid to be yourself around your date. When you are truly yourself, you demonstrate unmistakable confidence.
Laugh a Little
Laughing and having a good time with your date will demonstrate your positive sense of self. David DeAngelo, author of "Double Your Dating," suggests on eHarmony.com that a great sense of humor is one of the most obvious and instant ways that a woman can sense a man's confidence. You do not have to act tough or dominant in order to impress her, but go for a more subtle approach and simply make her laugh. You will leave a lasting impression on her and probably get a second date.
Have a Passion
Having a passion will give you an edge when it comes to appearing confident to your date. Patti Feinstein, who refers to herself as America's Dating Coach and has counseled hundreds of clients, reports on the "LavaLife" website that when you are consumed with something you love, your focus gets shifted away from yourself and you have less time to focus on your insecurities. It makes you more approachable to your date and shows him that you have the ability to be dedicated to something.
Embrace the Attitude
When you simply have the attitude that you like yourself, your confidence becomes obvious to your date. Psychologist Leslie Sokol, co-author of "Think Confident, Be Confident," states on the "Psychology Today" website that inner confidence shows on the outside, and making sure to stand up straight, look your date in the eye and smile can all cause you to be more attractive to the person you want to impress. Embrace who you are and make sure your posture reflects the way you feel about yourself.
View Singles Near You