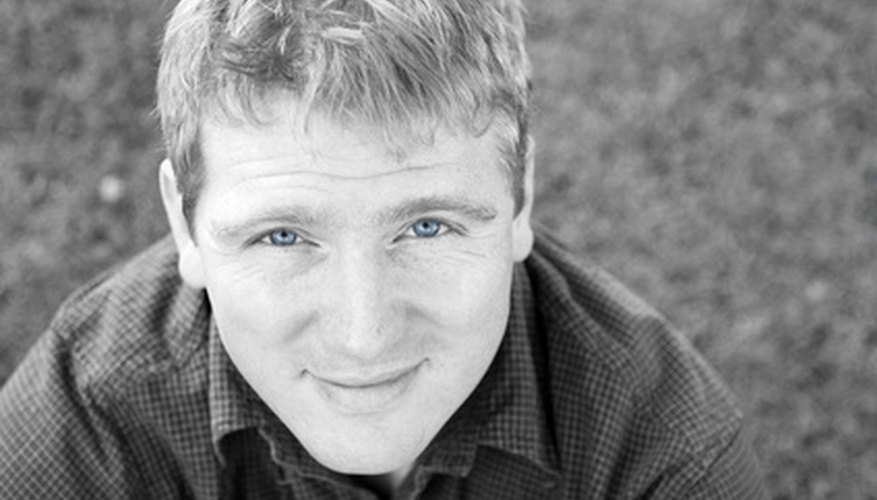 Watch His Eyes
If you watch a man's eyes, you may be able to see some signs of how he feels about you. When you are talking to a man who loves you, you may catch him staring into your eyes. If he is staring at the less sexualized parts of your body, it shows that he is interested in a more serious type of relationship. Additionally, a man's eyes show signs of love in a public, work or social situation. In such an instance, you may catch him staring at you, distracting himself from tasks and other interactions.
Strange Behavior
A man who is in love may display a number of strange behaviors that separate the person he is in love with from others in his life. He may seem shy and self-conscious in the presence of that woman, even if he is typically confident around other women. If a man is emotionally moving to a more serious stage in a relationship, he is more likely to remember little bits of important information about the person that he is involved with. A man who is in love is more likely to remember his partner's birthday, favorite chocolate, childhood pet's name and ring size, for example.
Preferential Treatment
If you are in a relationship with a man who loves you, he will treat you in a way that shows he prefers you over the other people in his life. He may buy food for his home or apartment that he knows you will enjoy, or act in other ways that show he is thinking about you when you aren't around. You may notice that he goes out of his way for you in other instances as well. Some signs that he is in love with you may include: helping you with your work, assisting you with chores and other tasks, and acting in other ways that make your life easier.
Making Plans
When a man begins to discuss plans for the future, this may mean that he is falling in love. Whether a partner verbally involves you in those plans or not, this may be a sign that he intends to keep you around. If the plans involve serious and long-term goals and ideals, he is probably seeking to involve you in his future.
View Singles Near You