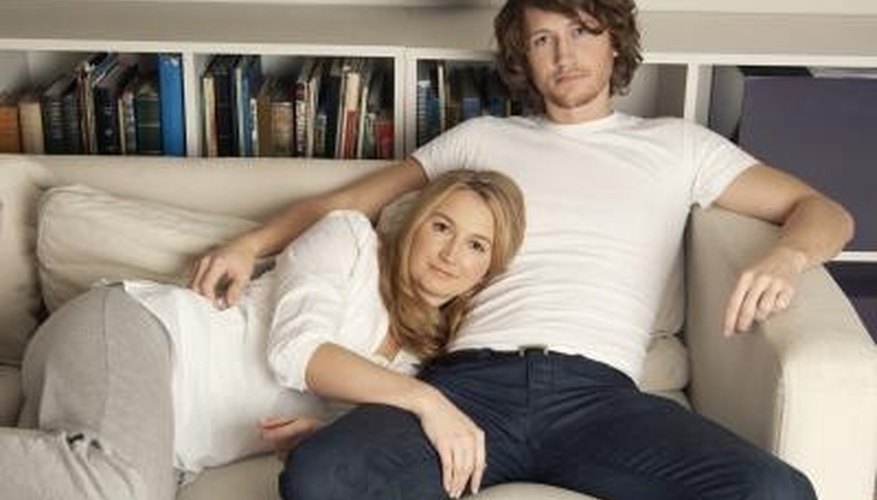 In one area, you're juggling your emotions, trying not to let one slip and knock your mate over the head; in another area, you both are trying to keep all the plates of your lives spinning so you have time to nurture everything at once. With all that it takes to maintain a healthy relationship, moving forward is a great thing. It's a sign that things are going well and you both are in it for the long haul. When you notice that your relationship seems to be stuck in one zone and you two won't be advancing to the next "act," there are telltale signs to confirm.
She Doesn't Want to Talk About It
When your relationship is at the stage where you two are walking a fine line between dating, being exclusive, maybe even getting engaged, you discuss how things will pan out on a daily basis. You're ready to chat with her about what that next phase will look like, but she shows no interest in opening a discussion. When she's not quite as hopeful and excited to map out plans for how you two will advance as a team, she might not be ready to move forward to the next level.
He Becomes Distant
You two have been joined at the hip since you met; you've done everything from talk on the phone for hours on end to seeing each other on a daily basis -- sometimes more than once a day. When he pulls back significantly and you suddenly realize seeing him is few and far between and talking to him is less frequent than a blue moon, this is a red flag that something is missing from your relationship. His unnerving distance is a warning sign that you two might be on the blink, especially if he hasn't given you any excuse for the change in pattern.
She Wants to Date Other People
Wow, you can't believe she said it. She actually sat you down and asked how you'd feel about you two dating other people. The lump in your throat is so hard to swallow, you're not even sure you're still breathing. If you both have been consistent in spending time together and have been exclusive even when you were just in the dating phase, it's a shocker when your other half wants to see other people. Take this as a sign that your relationship is taking a step backward instead of forward.
He Says He's Content the Way Things Are
So maybe the relationship doesn't have any major shockers. You two enjoy spending a well-balanced amount of time together, you're happy being yourselves in the relationship and, all in all, things are quite pleasant. Just for kicks, you bring up how he feels about you two advancing to the next level of your relationship and he bluntly states that he likes you and things just the way they are. Although it might not be what you wanted to hear, he just might not be ready to go into the next phase of what you two are doing and wants to remain in the safe zone for as long as possible.
View Singles Near You