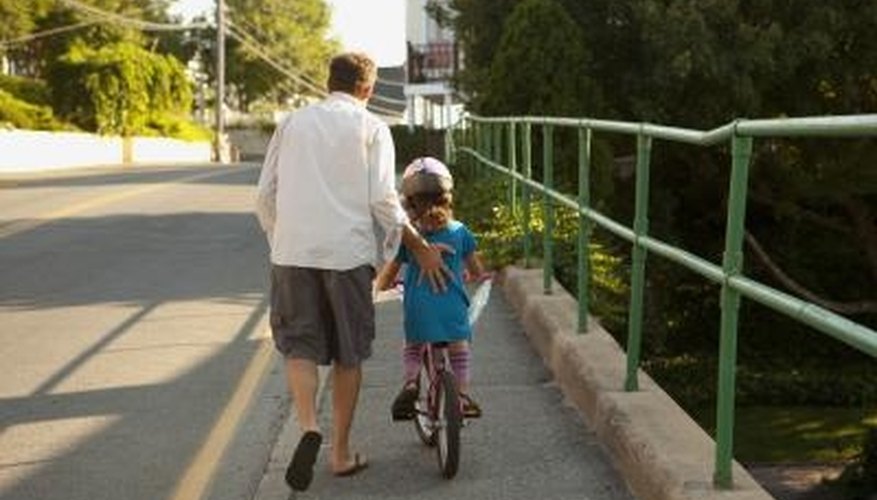 Most fathers appreciate simple and useful gifts. That's why some of the best gifts for Father's Day do not require a lot of money. Homemade and thoughtfully customized gifts are often the truly memorable ones. If your boyfriend's a dad, give him something practical and unique. He will appreciate knowing that you, his sweetheart, admires the job he's doing as Dad.
Chef's Apron and Cooking Supplies
A personalized apron is an inexpensive Father's Day gift, ideal for dads who enjoy cooking and grilling. The apron can be hand painted -- literally -- by adding his children's hand prints to the apron. Buy fabric paints at the craft store, and one day when your sweetie isn't home, pour the various colors on paper plates. Gather the kids around the table. Have each kid put his hand in a favorite color and then put his paint-covered palm on the apron. You can add a message to the apron, such as "Give Dad a hand." Aprons can also be monogrammed with the father's name or purchased with a funny quote that fits his personality. Or you can order an apron with a digital photo of his kids printed on the apron. Barbecue platters, sauce pots, sauce bowls and cutting boards can also be personalized.
Mugs
Coffee mugs are a simple, functional and inexpensive Father's Day gift he will use often. Coffee mugs can be handmade and customized at a ceramic studio or personalized with words and photos. If he is not a coffee or tea drinker, opt for another personalized beverage container, such as a beer mug, drink cozies or wine glasses.
Pictures
Pictures are simple, inexpensive and memorable Father's Day gifts. Simply gather any pictures of him sharing a special moment with his children. Put one special picture in an engraved frame. Or consider taking the kids out for a photo session one afternoon. Take pictures of them together in a park and print out a 5-by-7 or larger photo. Frame it for Dad. You can also use multiple pictures to create a college or photo book, both of which you can create online and order from a retailer. Digital photo frames display a montage of favorite pictures, although they cost more than regular frames and photo books.
View Singles Near You