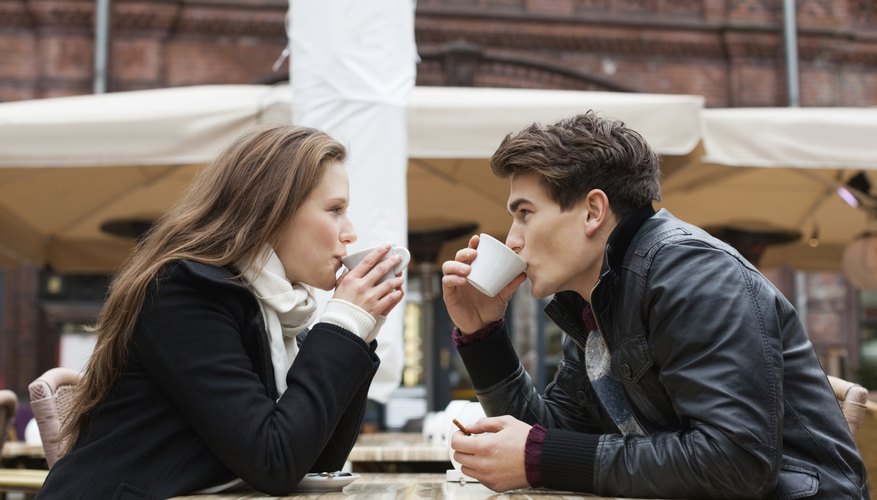 Speed dating is a popular way to meet a lot of people, and possibly a potential mate in a short time. Think of it as a game of musical chairs: A woman sits across a table from a guy, they talk for a predetermined time (usually less than 10 minutes), a buzzer rings and the guy moves on. A new man takes his place. In a few hours you can meet a dozen guys, one of whom might be Mr. Right. To make speed dating work for you, follow these strategies in your quest for true romance.
Avoid Duds and Dealbreakers
Be kind, avoid cruelty, and know in advance any dealbreakers or duds who you will disqualify from further consideration. If behaviors such as smoking or excessive drinking are out of the question, ask the guy if he smokes or likes to get roaring drunk. Can you tolerate being a football widow during the fall season? Ask if he is a sports nut. As for duds, pay attention to a guy's grooming, clothing and overall appearance. Clean fingernails? Clean clothes? Does his shirt look crisp or has he been sleeping in it? Glance discreetly at his shoes. Also, check out his smile (and hope he has one). Clean teeth? Missing teeth? Most women who've been playing the dating game long enough can intuitively tell sincere guys from "players." Take note of his conversation and whether he's trying too hard or seems relaxed and comfortable with himself.
Put Your Best Foot Forward
Smile. Ask different questions of different men, not so much because they will notice, but to keep you from going out of your mind with boredom. If he seems genuine, sincere, friendly and interesting, does it really matter what he does for a living, or are you hunting exclusively for doctors and lawyers? Be interesting by showing that you are interested in what he has to say. If you like the guy and want to boost his confidence or let him know he's hitting the right notes, maintain eye contact and lean forward. Turn your feet toward his, or maybe twirl a strand of your hair while listening, which you may end up doing subconsciously anyway if you dig the guy. Just as you would pay attention to his grooming, pay attention to your own. Wear red. Studies show women in red clothing are more likely to pique the interest of men, while men who wear blue are more appealing to women. Dress nicely but not provocatively. Leave some cleavage to the imagination and save the slit skirts for at least the third date. Go easy on the perfume. A whiff is alluring, but don't marinate in your eau de whatever. It might send some hot prospects bolting for the exits.
Conducting Your Interviews
Relax and remember: He sat down at your table; you didn't come to his. That's the way speed dating works, but it also gives you a powerful psychological edge. By sitting at your table, he is automatically conceding that this is your turf. You are in control. Steer the conversation accordingly. Ask open ended questions that can spur conversation, such as, "where do you like to go on vacation?" Or, "What's your greatest experience with your family?" Avoid questions that can only end in "yes" or "no" answers.
Keep Yourself Safe
Don't reveal a lot of personal information while speed dating. At this stage, nobody needs to know where you live, where you work, or your phone number. In time you can reveal those details. At the end of the evening, you can arrange to swap emails and phone numbers with the men who interest you enough for a second, longer conversation. Even if you think you've met Mr. Wonderful at a speed dating event and want to follow-up with a real date on the town, you should stick to public places, let a trusted friend know where you're going and when you expect to be home, and carry your cell phone. Date smart and you'll be dating safe.
View Singles Near You
Cite this Article
Choose Citation Style
Clark, James. "Speed Dating Tips for Women." Dating Tips - Match.com, https://datingtips.match.com/speed-dating-tips-women-13443168.html. Accessed 31 May 2020.
Clark, James. (n.d.). Speed Dating Tips for Women. Dating Tips - Match.com. Retrieved from https://datingtips.match.com/speed-dating-tips-women-13443168.html
Clark, James. "Speed Dating Tips for Women" accessed May 31, 2020. https://datingtips.match.com/speed-dating-tips-women-13443168.html
Note: Depending on which text editor you're pasting into, you might have to add the italics to the site name.