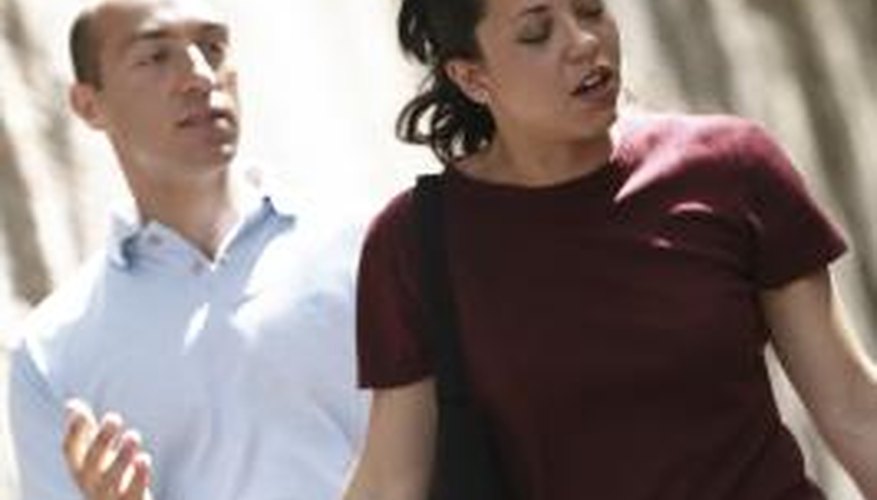 Step 1
Cut ties with people that your ex and you share as friends while getting over a breakup. Hanging out and socializing with shared friends will only increase hardship. Those friends will pry into your personal life and may even take information back to your ex. They may also invite you out to a social function and accidentally invite your ex. Explain to the shared friends that you need time to heal and that you'll be busy taking some alone time for a few months. Time is both your best friend and enemy while you heal a broken heart.
Step 2
Avoid the same places that your ex likes to frequent. Stay away from bars, clubs, restaurants and any other places that your ex visits consistently. Reminding yourself of your ex will only make the process of healing a broken heart much longer.
Step 3
Start a new hobby and stay busy with activities. Sign up for fitness classes at your local YMCA or take a crafts class. Make a few new friends so that you will have others to do outside activities with.
Step 4
Throw away letters or delete emails if your ex resorts to writing to you. Avoid being tempted to read them. Reading them will only upset you and prolong getting over a breakup. Getting over a broken heart will be difficult if you give in and read things from your ex.
Step 5
Take down reminders of your ex in your home. Purchase a rubber bin with a lid and place pictures, gifts, and anything else that reminds you of your ex into it. Place the bin in an attic or in the back of a closet so that it is out of sight. Constant reminders that are put away will help you heal a broken heart.
Step 6
Avoid meeting in person to return items to your ex. Being face to face with your ex will only tear you up inside, so just mail the items back for a few dollars instead of going though the unnecessary hurt or hassle. If your ex demands his or her stuff, then just send a close family member or friend to drop it off. Your close family member or friend will understand that you are trying to get over a broken heart and won't mind.
Tip
If you are having difficulty trying to cope with your breakup, then consider speaking to someone you trust or a licensed professional to help you.
View Singles Near You