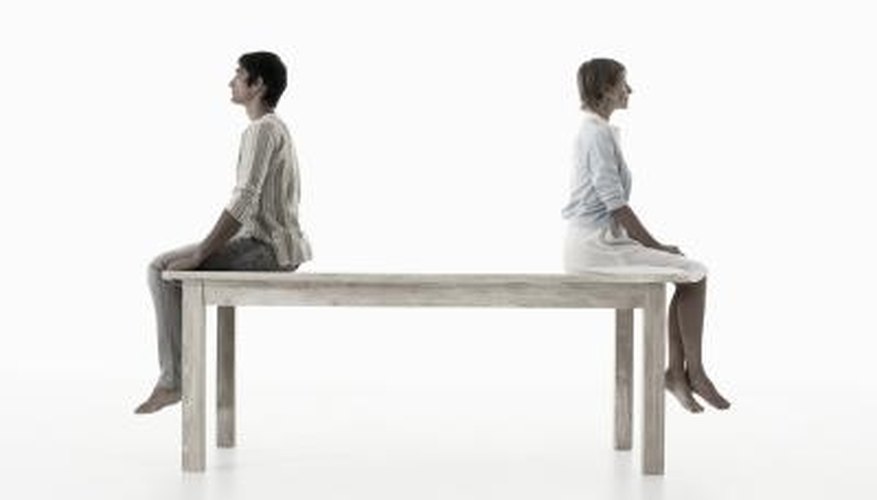 Relationship expert Miss Alpha suggests that you sit down and write out a list of reasons you chose to break up with your ex. Be specific; be brutally honest. Keep this list in a place where you have easy access to it. Read it in moments of weakness when you're feeling lonely and want to call your ex for a friendly chat.
Dr. Phil suggests that you leave no gray area when breaking up. Tell your ex that you need to completely cut off all contact in order to solidify your breakup. Stick to your guns and refrain from all social media, telephone, or in-person exchanges with your ex. Block or "defriend" your ex on social media sites if you lack self-control. Erase your ex from your cell phone contact list if it's the only way you can keep from sending a text.
Miss Alpha advises that you do not suppress feelings of grief as they arise. Give yourself a few moments to experience each new sensation of pain, loneliness, anger or fear. Then consciously release yourself from the feeling by saying out loud, "I choose end my relationship with [my ex]. I choose to to let [my ex] go." Do this each time a new wave of emotion arises, until you have fully completed your grieving process.
The Breakup Survivor website encourages readers to re-enter the dating world when they begin to experience feelings of loneliness. Call all your friends and family members to get leads on eligible love interests, sign up for speed dating in your local region, or enroll in a class such as swing dancing that requires you to interact with the opposite sex.
Forgive and forget your ex's sins against you, and you will be able to walk away with a heart ready to love again.
Tip
If you must communicate with your ex for some reason after your initial 60-day fast, commit yourself to keep the conversations impersonal and short. This will help you to avoid forming new emotional attachments to your ex.
Warning
Do not let bitterness over old offenses fester in your heart as this will only keep you tied to your ex in a toxic manner.
Resources
View Singles Near You