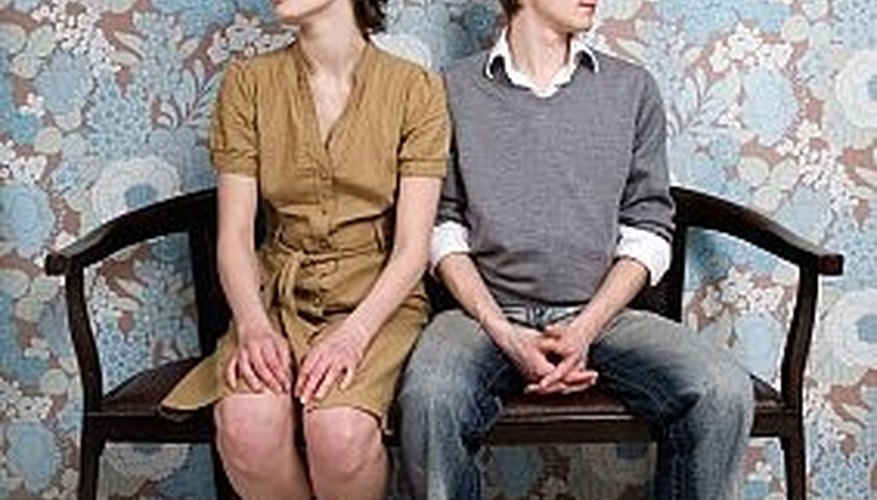 The worst part about ending a relationship can often be that you feel like you are losing your best friend. Unfortunately sometimes you just aren't right together as a couple anymore and you need to let each other go. However, there is hope that you can be friends again eventually. Here's how.
Decide if you really want the relationship to be over or not. The biggest mistake that couples make is to say that they want to be friends when what they really want is to get back together. If you want to get back together, be honest with yourself about that. See if the other person feels the same way. If not, you unfortunately need to let go of the idea of being friends for the time being.
Give each other time and space. This is the most difficult thing that you can do after a breakup and yet it's an absolute necessity if you truly do want to be friends down the line. You have to give yourselves time apart to make the emotional adjustment from being a couple to being friends.
Do things with other people. This doesn't necessarily mean starting to date right away although it could mean going on dates in the near future. Instead it means that you hang out with friends, take those trips to visit family members that you've been meaning to take and join some new clubs or social groups. Basically you need to fill the time that used to be spent with your partner and it helps to fill it with activites shared with other people.
Learn to spend time alone again. Once you've set up some scheduled activities with friends and family, you need to also embrace the time that you now have alone. Take a new class, explore a new place. Try not to think about the fact that you wish you were sharing this with your ex. This isn't easy. In fact, the first thing that you'll want to do is to call your ex. Don't do that. Use whatever willpower you have to focus on what's good about doing things alone.
Do some inner emotional work. Breakups are devastating but that doesn't mean that something good can't come out of them. Figure out what went wrong in your relationship. Resist the temptation to blame your ex. Instead, start doing the emotional work that you need to do to undertand what you want from a relationship and what you need to change about yourself to get that.
Make a list of all of the reasons that you want to be friends with your ex. Then make a list of all of the problems that it can cause. Start addressing those problems in your mind and seeing if it really truly does make sense to be friends. Ask yourself what you want from a friend and whether or not this person can give it to you.
Make plans to contact your ex and discuss resuming your friendship. Put some things into place before you do this. Set up a scheduled date with a friend or family member after the fact so that you don't have to be alone if it doesn't go well. Decide in advance what you want from the friendship so that you can be clear about it.
Articulate your desire to be friends and what this means to you.
Listen! You need to really listen to what your ex says in response. Does he / she even want to be friends? Does it seem like there's still something more between the two of you?
Make plans for a few weeks down the road. If you do indeed both want to be friends at this point, you can start making plans to hang out in the future. However, you want to maintain some space between the two of you so as not to fall into old relationship patterns. You aren't a couple anymore so you shouldn't behave like it or that will just confuse things.
Stay in close touch with your feelings. Hanging out with your ex again is bound to stir up feelings - especially when complicated changes come up like when one of you starts getting serious about someone else. The important thing here is to take the time that you need at each step to get back in touch with your feelings and to deal with them so that your friendship can remain strong.
Be there for each other. Good friends are there for each other when one needs something. There's no reason that you can't be there for each other once you've decided to be friends again.
View Singles Near You
Things You Will Need

A relationship that's ending.
Time.
Patience.
Emotional support.
Inner strength.
Tips
You may want to work with a counselor or other healing professional as you make this transition.

Be kind to yourself. Relationship issues are draining and this is really a tough one. Be sure to take care of yourself.
Warnings
Be aware that the transition from being in a relationship to being friends is going to take a lot of time and hard work. Expect it to be several weeks for a short relationship and months or even years for a long term relationship.

Your ex really can end up being your best friend but you have to do a lot of inner work and rely on a lot of emotional support from others to make this happen in a way that's healthy for you.
Cite this Article
Choose Citation Style
Contributor. "How to Stay Friends After a Breakup." Dating Tips - Match.com, https://datingtips.match.com/stay-friends-after-breakup-4789628.html. Accessed 05 June 2020.
Contributor. (n.d.). How to Stay Friends After a Breakup. Dating Tips - Match.com. Retrieved from https://datingtips.match.com/stay-friends-after-breakup-4789628.html
Contributor. "How to Stay Friends After a Breakup" accessed June 05, 2020. https://datingtips.match.com/stay-friends-after-breakup-4789628.html
Note: Depending on which text editor you're pasting into, you might have to add the italics to the site name.