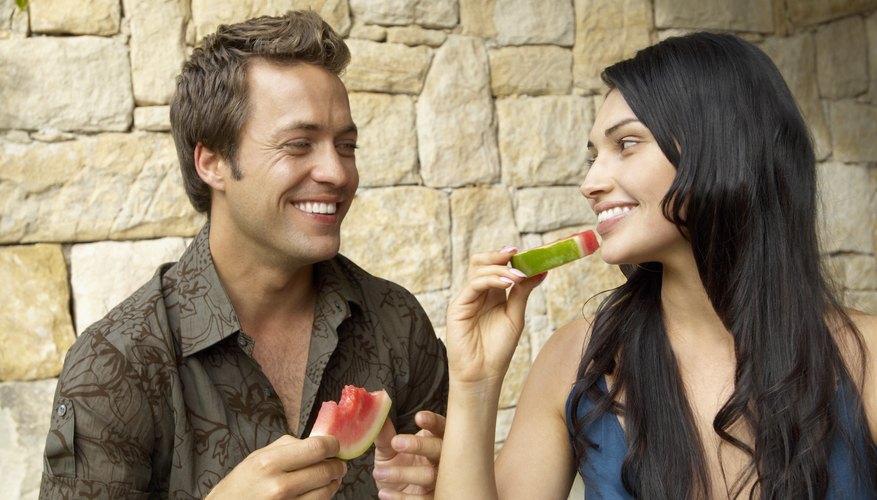 New Opportunities
Get more than just what is on your list the next time you go to the grocery store. According to a Marie Claire column called "A Year of Living Flirtatiously," the grocery store can be a hotbed of single strangers. Team members from the Whole Foods chain of grocery stores put in their two cents about the best flirting opportunities at the supermarket. Hang out at the sampling stations that many grocery stores set up. Strike up a conversation with a fellow sampler by asking him if he liked the seafood bisque or thought it was a little too salty. If you catch a cute stranger trying to decide between two kinds of fresh fish, offer your opinion. This can lead to a conversation about how he plans on cooking the fish. If you're lucky, maybe he wants to cook for you, too. Long checkout lines also provide an opportunity for flirting. Laugh out loud at a story you are reading in one of the tabloids and then share the story with a cute stranger. Similar techniques can be employed at the mall, on the bus or in the airport.
Body Language
Use body language to get your point across. Judy Dutton, flirtation expert and author of the book "How We Do it: How the Science of Sex Can Make You a Better Lover," offers some advice on how to use body language to your advantage. If you are into the person you're talking to, mirror their body movements. Doing similar things like crossing your legs at the same time or taking sips of your drink simultaneously can make the person feel like you are on the same wavelength. Dutton also suggests getting up close and personal. This does not mean doing the not-so-subtle fake stretch arm around the shoulders move. Do something casual, such as lean into them to try to flag down a waiter and see how they react. If they tend to lean back in toward you, your flirtation has been successful. She also suggests that subtle touching can be a great move. Just don't make it obvious, and stick to G-rated areas such as the arms or back.
Get the Signals
Learn how to tell if someone is flirting with you. Once you get a clue that a person might be interested, you will feel more comfortable about letting them know that you are interested, too. According to Marie Claire and Judy Dutton, you can look at a person's feet for clues of flirtation. Someone who is interested will point their feet toward you, while someone who is not will point them away. Also, check for signs that someone might be flaunting their best assets for you. If a girl you are talking to keeps running her fingers through her long shiny hair, chances are she wants you to notice it.
View Singles Near You