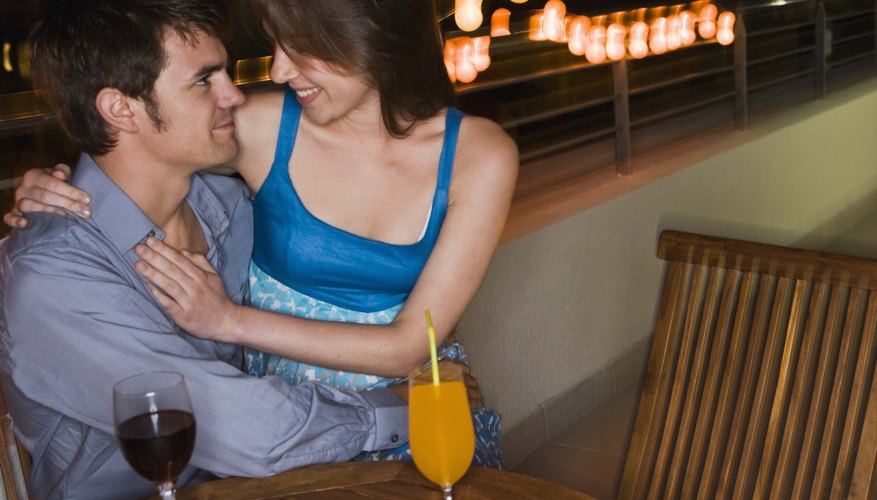 Personal Coupons
Give your man coupons that are unique to your relationship. Just as retail stores and restaurants issue coupons to reward customers, give him coupons on his birthday, your anniversary or on Valentine's Day that he can use for sweet romantic activities with you. Design the coupons on your personal computer, and print them out. Make a booklet with the coupons, stapling them together at the ends. Make coupons that are valid for a back massage, a foot massage, weekly dates and other things with your man.
Poem
You regularly tell your man how much he means to you. For a sweet, romantic anniversary or birthday idea, write him a poem. Use each letter of his first name as inspiration for lines in the poem. For example, if his first name is Eric the "E" could represent extraordinary man, "R" romantic inspiration, "I" irresistible man and "C" companion. Frame the poem, and read it to him by candlelight.
First Date
When a couple looks back on their relationship, oftentimes, some of the sweetest, most romantic moments occurred during the first date. Recreate the first date you and your man went on together for a sweet romantic anniversary idea. Relive every detail of the date. If you went out to dinner, go to the same restaurant, or recreate the same meal you had at home. Rent out a cinema and have them screen the same movie that you saw on your first date.
Video
Your man sometimes goes wild over beautiful women, such as pop stars and movie stars, when he thinks you are not looking. As a sweet romantic idea for his birthday or on your anniversary, make him forget about those women by creating a music video or movie scene with you in the starring role. Copy every detail of the original music video or movie scene, including outfits and props. Lip sync to the music, if your singing skills are not up to par.
View Singles Near You