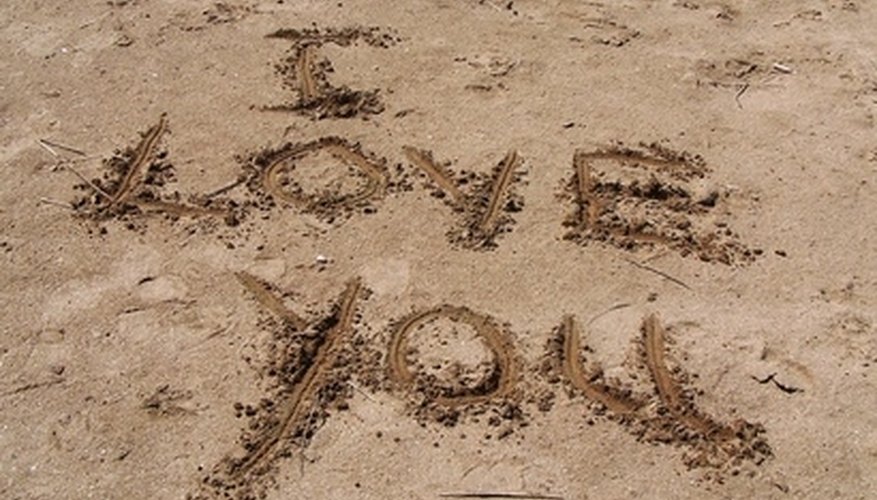 Tell Her She's Beautiful
Tell your girl that she is beautiful. In general, women are under a lot of pressure to look good and on par with societal standards. As a result, nothing can be sweeter than reminding your girl of how much you're attracted to her. Before she can ask you how she looks in her new dress, tell her that she is stunning and you are lucky to have her on your arm. In addition, don't be afraid to point out things about her that you think are beautiful. For example, "you have beautiful eyes," or "I love your smile."
Say "I Love You"
Saying, "I love you," can be a big step, but when your feelings are strong and you're ready to take the leap this is one of the sweetest things you can say to your girl. If you've been in a relationship with your sweetie for a long time, and you've already told her you love her for the first time, don't be afraid to look into her eyes and say it again. The words "I love you" can offer your girl reassurance and confidence in the relationship. It's a special way to show her how deep your feelings are.
Let Her Know You Miss Her
Tell her you miss her. This is particularly appropriate for long distance relationships or couples who don't get to see each other as often because of work. However, those three words can also apply to couples who spend a lot of time together. When you're at work or school, call her or text her and let her know that you're thinking about her and you can't wait to see her again. Saying "I miss you" can really resonate with a girl, regardless of the distance.
Be Creative and Don't Be Afraid to Sound Corny
Leave your ego at the door and find creative ways to whisper proverbial sweet nothings in her ear. If you're out of ideas, websites like futurescopes.com have suggestions of sweet sayings for your special someone. For example, "I'd rather not be with anyone than you," "I trust you with all my heart"and" I enjoy every moment with you." Whether you choose to grab a saying from a website list or come up with your own, it's important that you speak the truth and tell her how you really feel about her in your own way.
View Singles Near You