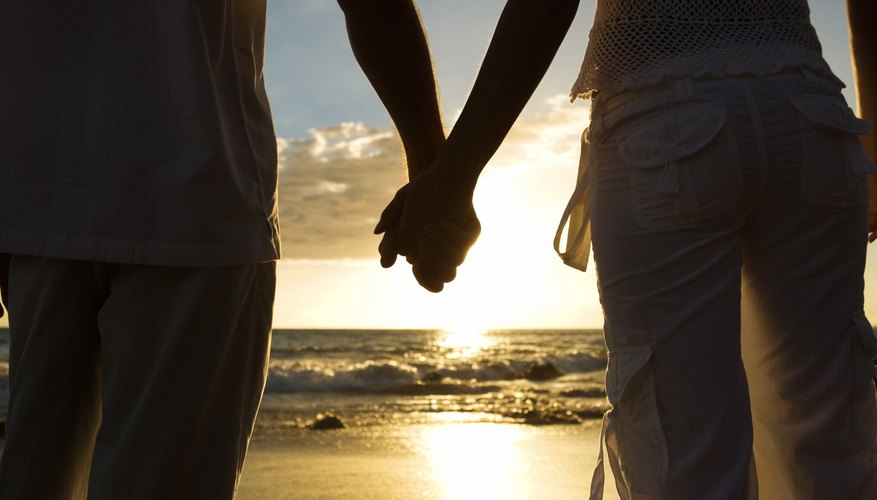 Needful Things
Convey your commitment by giving your partner a gift symbolizing love and dedication. You can rely on the traditional symbolism of diamond jewelry or the unending circle of the promise ring. Another option is to incorporate your knowledge of your partner's interests to develop a symbolic and personal gift. Prepare a present that references the history you share with your partner. For example, if on your first date you went canoeing on a swan lake, a statue or figurine of a swan will symbolize the unending course of your love.
Custom Outings
Places are often highly symbolic. Taking your partner on a trip to a location that symbolizes commitment is sure to communicate your seriousness about your relationship while impressing your lover with creativity and dedication. For a traditional route, visit an impressive site such as Niagara Falls. Here, you can depict the constant cycle of the perpetually falling water as a symbol of eternal love. For a more personalized symbolic outing, take your lover to a location that is significant in your history. For example, return to the site where you became engaged to symbolize the ongoing nature of your relationship.
Memorable Media
Harness the power of media in conveying your commitment to your partner by making your own symbolic piece of media. You have many options depending on the equipment you have available and the amount of time and money you can spend on the project. For example, make color copies of your favorite pictures of you and your partner. Cut these out and paste them onto a piece of cardboard, creating a collage. Photographs of the two of you together immortalize your commitment. Similarly, create a video montage to record your feelings for your partner and include clips of the two of you spending time together. Edit the piece with both of your favorite songs. The lasting nature of media further symbolizes the timelessness of your relationship.
Eloquent Words
Few forms of communication match the sentimentality and symbolism that exist in language. Use symbolic language in expressing your commitment to your partner. For example, write her a poem in which you explain how much you care about her and how you plan to stay by her side. Not only will she find an original poem touching, she will be moved by the ancient symbolism of the love poem. Similarly, write a song for your lover, performing it in the romantic style of a serenade, a symbolic love ritual used by many cultures over thousands of years.
View Singles Near You