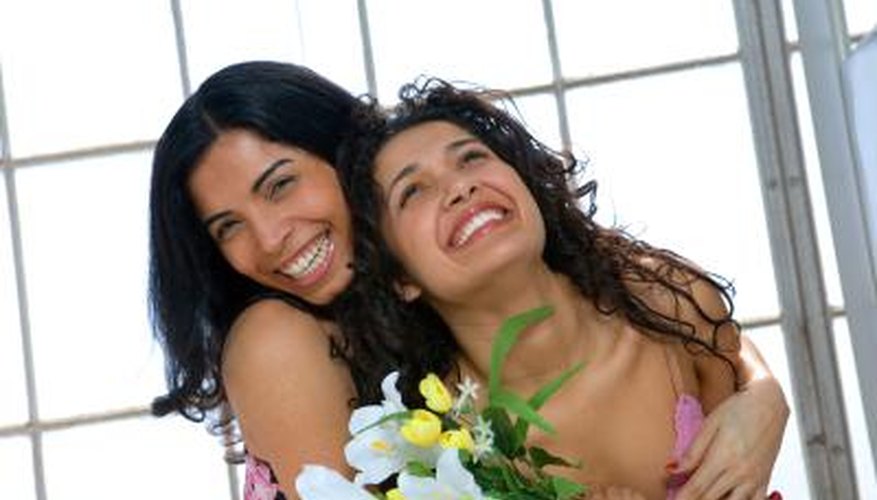 Get Their Attention and Impress
Impressing a possible mate is the name of the game for any hopeful single. First things first, a woman needs to get another woman's attention. Just like birds in the wild with colorful plumage or the seductive dance of the honeybee, potential mates often impress with their looks or abilities. Women must consider what others are seeking in a partner. A more submissive, meeker woman might be looking for someone with a higher degree of physical prowess or someone who possesses a less than traditional look. Consider that opposites attract in many relationships. Play to your strengths and concentrate on bringing attributes that may attract the other woman to the forefront.
Let Other Women Know What You're About
Madonna said it best: "express yourself." Radiate a strong personality by showcasing a visible level of confidence. That doesn't mean becoming loud or arrogant. Rather, focus on expressing yourself as a quietly confident woman who is noticeable but mysterious enough to warrant getting to know. Of course, being visible - or out and about - is the first rule for those who are eager to date. Most cities have gay and lesbian bars but whether you're at a bar or out grocery shopping, continue to concentrate on being yourself. The Love Letter Box website suggests that making a winning first impression is done by "look[ing] into the eyes, drop[ing] a nice warm smile...a smile with the right eye contact at the right time"
Be Comfortable With Yourself
Let people know you're a lesbian in whatever manner you feel is most comfortable. Describe your ideal date on Facebook or another social networking site. Wear clothing that complements your personality and your interests. The "Lesbian Dating Bible" recommends accepting yourself and your sexuality so that you can "effortlessly toss out any deep-seated anger, resentment or guilt over being gay. This is key to relaxing in your own skin and finally loving and accepting yourself from head to toe."
Meet Women Anyway Possible
Use a variety of means to let someone know you're interested. Reach out to the woman in a creative manner. Send her a cute card with a little note asking her out, construct an elaborate first date that caters to her interests or purchase a thoughtful, inexpensive gift and have it delivered to her at work. Diana Cage, author of "Girl Meets Girl: A Dating Survival Guide," suggests that "you'll never know whether a woman is attracted to you unless you broach the subject"
View Singles Near You