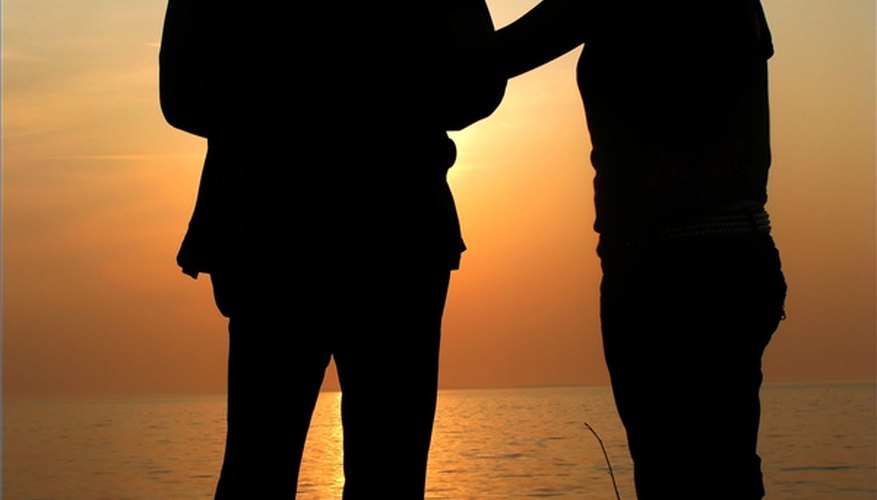 Starters
Start with the obvious. Hello is a great way to greet someone. If she looks good, tell her so. Ask her how she is doing, and let your curiosity guide you. You don't know this person, and even if she is beautiful that doesn't mean she's the one. Discover what sort of person she is by asking her about her life.
No Scripts
Do not micromanage the night. In thinking about what it is you would like to talk about, remember that it is just important not to turn the evening into a script. When you don't know someone very well, or when you are anxious to impress or not appear foolish, the tendency is to talk non-stop. Remember that it is normal to have moments of silence. If the chatter is continual, that is fine, too--just don't force it.
Family
Ask about her family and discover more about who she is. One sure way to gain insight into your date's character is by asking about those who've spent the most time with her. Discover whether or not she is a single child, has brothers or is close in age with her siblings.
Humor
Allow your sense of humor to come out. This doesn't mean you need to practice your comedy routine. Having a sense of humor means, in essence, allowing yourself to have a good time. A first date is a special event and should be enjoyed. Don't forget to have fun and let your laughter out as it comes.
Beware of Monologues
Talk about yourself when asked. There are few things more dull than listening to someone rattle on about themselves for 15 minutes at a time. Though sometimes this stems from nothing more than nervousness, talking about yourself for too long might give her the impression that you're not someone who is a very good listener. Conversation takes two people so include her, don't make her your audience.
Respond when she asks you a question. Talking about yourself all night isn't the answer, but either is monosyllabic answers. The point is to be considerate. Any good relationship requires work and compromise and that starts with well-balanced communication.
What Not to Say
Consider what not to say as well. Saying something inappropriate can ruin your chances of having a second date. Though there are no defined rules, talking about marriage and children on the first date might be a bit much. Also, talking about your past relationship nightmares, though often hilarious, should be spoken of with caution. For some people, religion and politics might be a potential hazard. Overall, think about what you say before you say it and approach each new subject broached with some sensitivity.
References
View Singles Near You