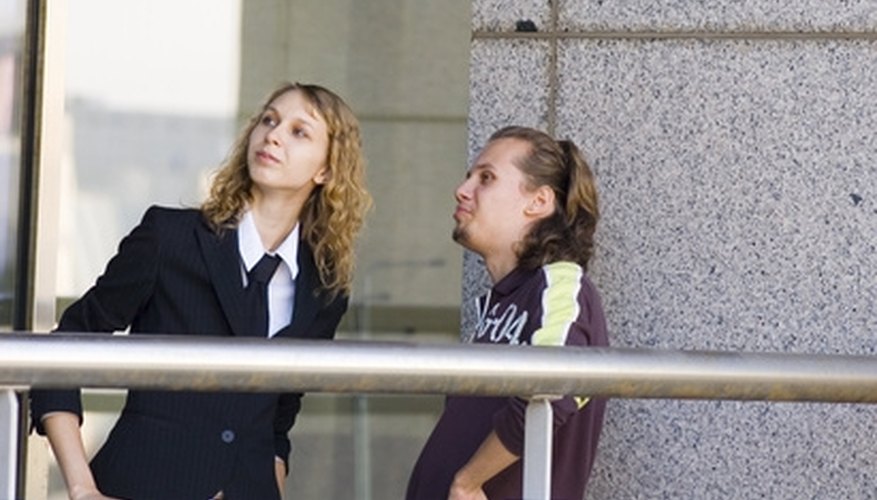 Greet her. If the girl you want to talk to is with a group of friends, approach the group. Say, "Hi," to everyone and introduce yourself to people you don't know. This will show the girl you are friendly and let her know you exist. If she's not in a group, introducing yourself and ask her how she is doing.
Try some light comedy. A joke, clever observation or funny comment is always a good way to break the ice. Make sure your joke is tasteful and not at someone else's expense. For example, you could sit by her while you look at a catalogue full of strange or unnecessary home items (if available). When you get to a page with strange lawn ornaments or creepy-looking garden gnomes, start to laugh so you get her attention, point to the picture and say, "They make everything today: now they make these creepy things to keep stalkers out of your yard."
Ask the girl about a recent event in which she participated. If she recently returned from a trip abroad, is interning at a local company or volunteers for an organization, ask her about it. This conversation could start out like this: "I heard you just got back from China. What was it like over there?" A question like this can help you learn more about her and lead to other conversations.
If you don't know that much about the girl, ask her if she's seen the latest movie or heard about a recent, interesting news event.
Ask the girl for advice. People like to feel smart and as if they're an authority in a particular subject. Asking for advice can make the girl feel empowered and more open to talking to you. If, for example, the girl works with animals, you could ask: "I've been thinking about getting a pet, but not a fish. I really want a dog, but I like cats, too. Which would make a better pet?"
Be yourself and be confident. When having a conversation with a girl you hardly know, talk a little about yourself, ask questions and listen to the answers. Throw in a compliment or two and ask more questions to carry on the conversation.
Tip
Practice being confident by greeting people you don't know and smiling.
Resources
View Singles Near You