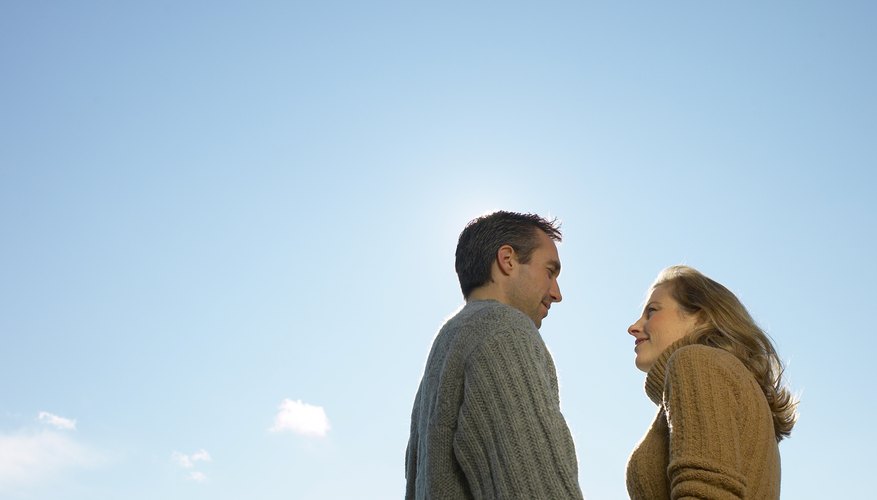 Step 1
Wait until the right time to request a one-on-one talk session with your man. "We have to talk," is a phrase that will make almost any man cringe. Alleviate his concern by approaching him at the right time. Make sure that he doesn't have a time limit or isn't distracted by something else. Also, don't expect him to respond well if you insist on talking at the end of a difficult day, when he's not feeling well or in the middle of his sports team's final game.
Step 2
Prepare yourself. Make sure that you know what you want to say, how you'll start off the conversation and the main points that you want to communicate. Try to make your "speech" as succinct as possible. If you throw too much detail or too many words at your guy, his eyes may start to glaze over and he won't retain much of what you're saying.
Step 3
Be direct. If your feelings are hurt, say they're hurt. If you're feeling strongly for your guy, say that you're feeling strongly for him. Men are not good at decoding what a woman means -- you have to say what you want to say, directly. Don't expect him to pick up on subtle cues. If you're too vague, you'll wind up being disappointed and assume that he wasn't listening to you, when in actuality, you weren't truly speaking his language.
Step 4
Avoid mentioning past relationships. You may feel that the best way to express your feelings is to compare them -- or your boyfriend -- to men from your past. This won't get through to your man, though, or spark understanding. Instead, he'll feel that you're not over your past. Even worse, he may think that you're bitter towards men.
View Singles Near You