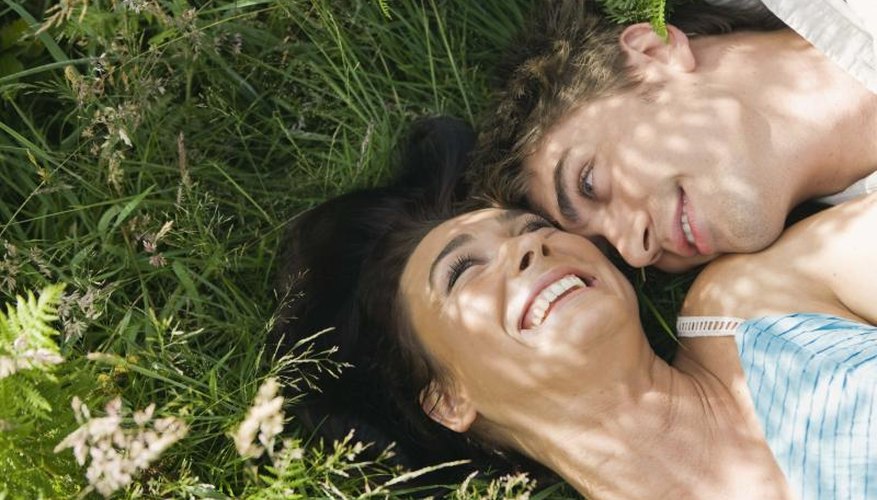 Step 1
Give a compliment from a sincere place. If you're just saying that she's beautiful because you want her to give you a ride to work every day, do your laundry or cook you dinner, it's not likely that she'll believe the sentiment behind what you're saying. On the other hand, if it's an honest statement that you truly feel, she'll see the intent behind your words.
Step 2
Watch your focus. When people -- men especially -- focus on a woman's appearance, they tend to look at her body, notes social law psychologist Sarah J. Gervais on the website Psychology Today. When you tell her that she's beautiful, pay attention to where your eyes go. She'll appreciate the sentiment more if you look in her eyes instead of elsewhere.
Step 3
Help her to take the compliment. If she brushes it off or comes back with a put-down for herself, remind her that she just needs to say thanks. Low self-esteem may make her unable to see her own beauty. Don't let her get away with self-doubt. Firmly say something such as, "Yes, you're beautiful. I don't want to hear anything else."
Step 4
Say something specific. Anyone can say, "You're so pretty." While a compliment along those lines reflects what's on the outside, add what makes her beautiful on the inside, too. This may mean complimenting how her humor radiates through her glowing smile or the sweet, caring look in her eyes. Getting specific can also help you to show her that you've truly noticed her and are paying attention. For example, saying, "Your ocean-blue eyes are so beautiful that I get lost in them sometimes" shows her that you've spent time looking into her eyes and are able to notice the little things.
View Singles Near You